Z-Kart: An electric car made at home by California man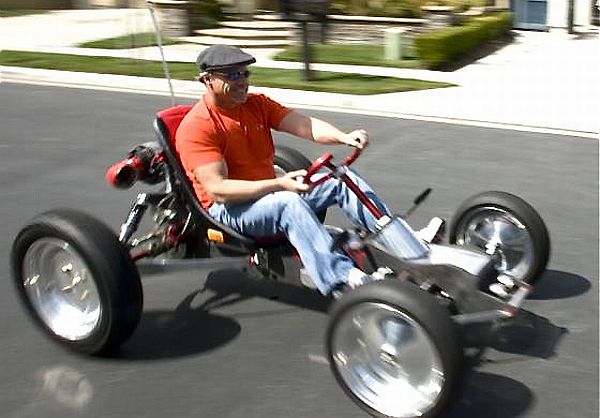 George Fortin seems to have surprised many with his homebuilt Z-Kart electric car. While many of the biggies in automobile industry are trying hard for years to come up with a viable electrical alternative to the polluting chariots that we use everyday to commute, Mr Fortin have created one out of his garage.
The Z-Kart, as it is called by its creator, is more like a buggy than a car. Since it was built at home, the car lacks all the safety features that one gets in any modern automobile. It is a one seater having a meager range of 20miles with a top speed of 40miles/hr which the maker believes can reach 50miles/hr with different gearing.

The vehicle is powered by a 72 volt DC motor via 6 lead acid batteries. The batteries were chosen because of their cost effectiveness. The motor can be charged by a 110-volt outlet through a retractable cord in about three hours.
The frame of the car is made using solid polyethylene & aluminum is used for the rear hubs. It seems that the design of the car is a combination of various different types of automobiles like the the brakes are made for racing go-carts, the tires are used on motorcycles & rims are designed for sandrail dune buggies. Fortin tried bicycle tires on the car but they couldn't take the weight of the 300 pound car.
George Fortin says he got inspiration of designing the car from his kid's battery-powered radio-controlled model cars. Although the car Mr.Fortin has come up with not suitable for commuting, it should get its due credit for being a wonderfully engineered vehicle. Driving the car is also an excitement of its own. Fortin is well aware of the shortcomings of Z-Kart but he hopes that his creation will inspire others to create better driving machines.
Source: Gizmag