Yeti – A battery powered robot that helps in detecting crevasses over ice landscapes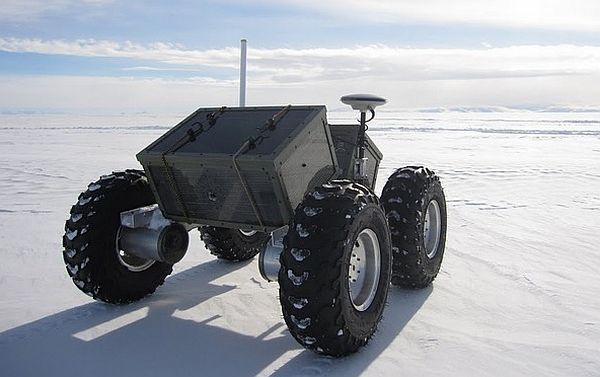 The romanticized expanse of the never-ending white landscape can yet prove to be treacherous to humans. Yes, we are talking about the poles; the very last frontier of the world that provides us a sense of dynamic exploration and invigorating adventure. But within the folds of its silky white contours there exists large, incomprehensible crevasses that pose a serious threat to researchers traveling over the ice. And in righteous bid to counter this situation, an assorted design team of students, faculty (from Thayer School of Engineering) and engineers (from United States Army Cold Regions Research and Engineering Laboratory) has contrived the Yeti, a mobile robot that can conveniently detect such crevasses.
A crevasse is basically a deep crack in an ice sheet or glacier, formed due to the movement activity of the ice plates. They sometimes remain undetectable due to the uniformity of the surrounding landscape. So the researchers have designed the Yeti so that it can quite jauntily traverse the area (over snow and rough terrain), and use its advanced radar technology. The ingenious technology itself utilizes electromagnetic radiation, while the reflected signals from underground are collected by the robot mechanism.
Inspired by a previous solar powered conception known as Cool robot, the Yeti features a low emission battery powered mechanism (with adequate running time of three hours). Still in its experimental stage, the lightweight and bantam robot (only 1 sq m in area) can be pre-programmed to travel by any particular route. After the collection of required data, it can travel back to the researching operator, for further analysis and conclusion. From the perspective of research, the robot can collect a wide range of data that is not just limited to detecting crevasses, but also can provide information concerning glaciological and climatic attributes. This conclusive info can be used for various scientific endeavors such as examining rare oxygen isotopes or even drilling ice cores.
Via: TheDartMouth