Wooden sculpture of Pininfarina Cambiano to grace the Milan Furniture Show
With the start of this year, the trendy Pininfarina Cambiano won the award for 'the most stunning and beautiful concept' at the Geneva Motor Show. Recently, the design company decided to celebrate the honor by designing something different and special for the Milan Furniture Show. In the lieu, this spectacular piece of art was brought to life on wood by dexterous sculptures. An extraordinary, eye catching wood figurine of the Pininfarina Cambiano was designed for the show that left the crowd spell bound.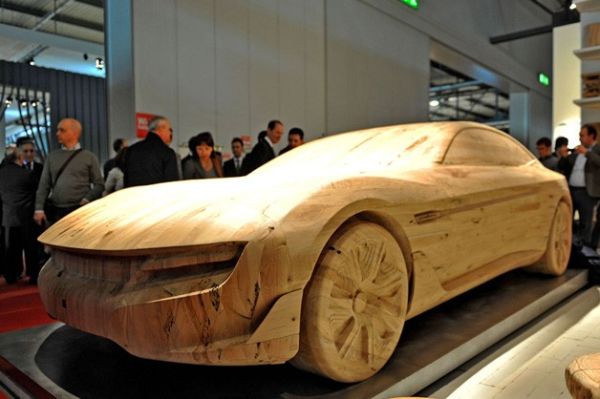 Sculptors at Riva 1920, who crafted solid wood furniture, with continuous aid from the Pininfarina design team chiseled the unique shape of the Pininfarina Cambiano using Venetian Bricolla Wood. It is the same material that was used to make up all the mooring poles in the famous Italian city. The best part of this wood comprises of its unique markings. These sculptors, who had been working with Pininfarina for over ten years, had the brilliant idea of recovering the wood of these poles, which is replaced almost every year. This particular wood is marked by the lagoon water and by aquatic organisms, which came into being once again producing something really exclusive that will surely last for a long time. The material used, reveals its unique texture and the wear and tear of passing time. Working on the same concepts, Riva1920 has also designed the interior of Cambiano with wood. The result is a sculpture, which is surprising and reminiscent.
This intricate and fragile craftsmanship in its own significant way, expresses an outstanding level of creativity and experience. The natural design and patterns on this carved beauty are out of this world. Recreating a concept car on wood, and still maintaining its magnificence, is not an easy task, but the sculptors at Riva 1920, actually made it possible.
Via: Autoblog