Wood Lingerie: Basking in the beauty of nature!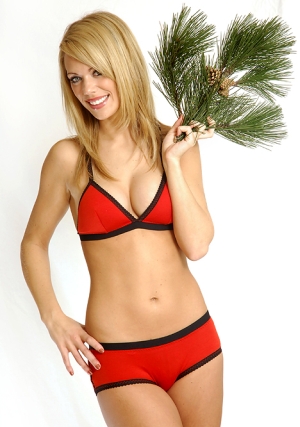 Talk about being close to nature! This is getting as close as you can to it. I suppose you can get close than this, but honestly I would not want to go there. I do not want people shouting out that I must be Rated R. I suppose this is still a nice way to make sure that you do your part in making your wardrobe eco-friendly. Although the knickers and bras are derived from white pine trees there is no risk of the wearer getting splinters in uncomfortable places as they are as soft as silk. Fibers are extracted from the tree branches before being spun into a fabric which is then used to make the eco-underwear.
The makers claim fabric has dozens more microscopic holes than polyester, meaning more air can circulate making them more hygienic. The natural fibers also absorb twice the humidity as cotton which prevents bacteria from growing. The lingerie has been created by French fashion designer Sophie Young after her child suffered an allergic reaction to dye in clothing. The production process starts with large branches being selected from white pine trees in North America and Canada during normal harvesting. The wood is then shipped to Montilliers in France where scientists break it down with the use of enzymes to turn it into a doughy consistency.
I knew there was a French connection somewhere in all this! How can the French keep out of sexy, eco-friendly fashion line? Especially when it concerns lingerie! Fibers are then extracted from the dough and wound into enormous 900lbs bales before being spun to make the fabric called Lenpur. Designers have said the process is similar to the traditional art of spinning cotton. The underwear can be washed in a machine at 30C but we they are not suitable for tumble drying as it is not ecological. It really is nice that someone is making sure that every aspect of the wardrobe is eco friendly. You can get one of these in your nearest store very soon. Till then I would not mind Angelina, Jennifer Aniston and Shakira posing for them. What? It is for a good cause…