Wind-Up Mobile Phone Charger: Needs No Batteries or Mains Power Supply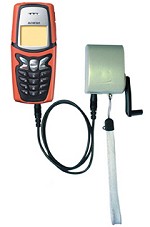 You can now charge your mobile phones without batteries or mains power supply! The Porta-Charge Wind-Up Charger needs to be wind-up to provide charge to your mobile. You simply have to plug the charger into your phone and turn the handle, and your phone battery is charged. It comes with adaptors.
Only 3 minutes of winding will give you 30 to 60 minutes standby or 2 to 8 minutes of talk time, depending on the phone you are using. The amazing charger comes only in white. Priced at £8.95, the charger is compatible with various cell phones.
Via: Green Shop