Vo Trong Nghia demonstrates versatility of eco friendly bamboo
Eco friendly architecture has seen a boom in recent years as designers realize the benefits of green buildings. Using naturally available materials, it is possible to construct structures that are as efficient and sturdy as those using metal or concrete. The trick lies in the design and weaving together all components extremely well so much so that there is no room for error. Vietnam based architects, Vo Trong Nghia, completed the design for the Flamingo Dai Lai Resort in Vinh Phuc province using bamboo as the finishing and structural material. No metal has been used, giving evidence that bamboo can be used to create exceptionally beautiful and sturdy buildings.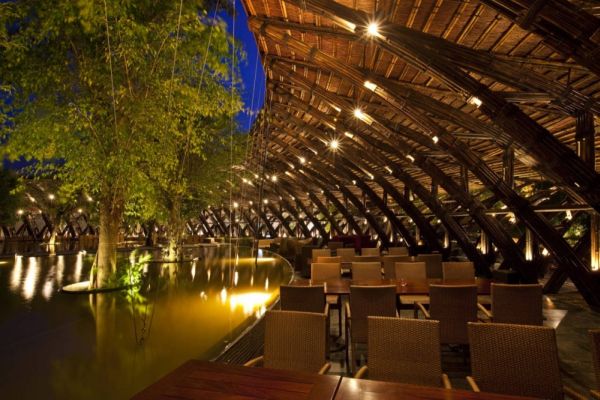 Called Bamboo wing, the structure takes the shape of a birds' wings and showcases the versatility and flexibility of this abundant natural material. The building floats over water in a graceful arc and symbolizes the ease with which birds make their voyage across the skies. An open space measuring 12 meters stands without any vertical support. Instead the pillars arch to support the roof, providing an aesthetically pleasing space for ceremonies and live music concerts.
Vietnam is a country that's abundant in bamboo. As such, Vo Trong Nghia's project shows that architecture needn't be confined to building materials like concrete and metal, though the firm isn't the only one to employ eco friendly resources.
The design of the resort is such that it facilitates natural ventilation, minimizing the need for power hungry coolers and air conditioners. Since the structure overlooks water, cool breeze flows through the building. This adds to the natural ventilation and makes occupants feel closer to nature.
Bamboo, as a building material, is pretty resistant to earthquakes as it sways when tectonic plates shift and doesn't usually collapse. Even if it does, the damage sustained won't be as great as what concrete and metal can inflict.
Via: Archdaily