Vintage factory cart upcycled into a coffee table
Steampunk furniture is at an all time high these days. It gives a new life to a collection of furniture which seems to be outdated and rather old fashioned. The generations before us brought furniture and design that had a spirit and was in itself a character, but today that furniture is discarded by all. But with their hard work and creative minds the designers have from them, innovated exclusive pieces of furniture that inspired the people of the new world. One such piece is the factory cart coffee table.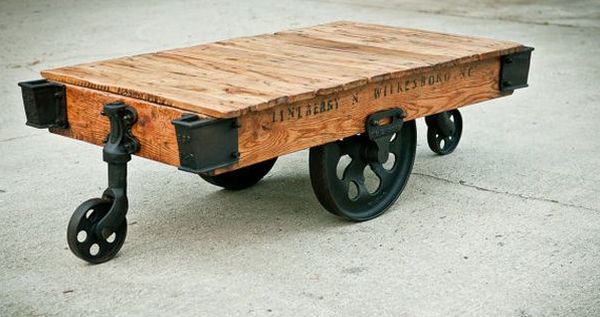 A traditional manufacturing factory cart has been completely refurbished and up cycled into a unique coffee table that will grace your living rooms. This table has been fully disbanded, unsoiled and has been given the final finishing all over again. The iron gears of the cart have also been carefully reinstated and taken care of with a intermingling of wax. This steampunk coffee table displays the unusual factory stencil which appears on both sides. The body of the table, made up oak wood has been carefully polished, smoothened and conserved with wax to save the original character of the wood. This table made of oak wood is extremely durable and sturdy and can be kept in a desired position.
Many such pieces that were used earlier are now being discovered, and it is found that these pieces despite the mishandling and discarding for decades together have still remained undamaged and as equipped as the day they were introduced for the first time. Today these designs inspire a new generation of brilliantly creative individuals, who restore them, with their imagination and skill to create lively, innovative and eco friendly pieces of furniture that greatly add to the charm of the interiors.
Via: Alternativeconsumer