Villa 4.0: Renovated sustainable house for eco denizens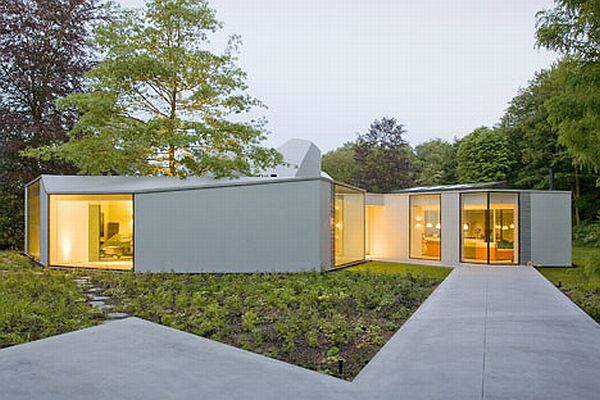 Noted Dutch architect Dick van Gameren has transformed an old house in the outskirts of Hilversum, Netherlands into a beautiful and modern villa. The old bungalow was built on a hexagonal plot of land back in 1967 and was in a bad condition. The most remarkable feature of this house was that it had many sustainable provisions given in the building, which were quite old but still relevant in the modern times and hence the client quickly bought it and handed over to Gameren for renovation. Gameren further consulted many specialists to include sustainability plans during the recasting of the house in a new mold.
Gameren has named this project Villa 4.0 since this is the fourth time the house has been renovated. The house was already altered in 1972 and 2001 and hence Gameren reused the existing house to its best use without demolishing the old structure. The garden of the villa was also renovated. Trees and bushes were replanted in the same pattern and the fallen trees were stored for using as firewood. Energy efficient systems are installed for avoiding energy wastage.
The kitchen has also been designed consciously to save power and hence an energy saving wood stove is installed, which continuously provides warmth for 24 hours, after two heating sessions of 90 minutes only. The floors of the bedroom are made from bamboo floors which is again a sustainable alternative for wooden flooring. The existing structure of the house has been used as a base throughout in the building and the outer walls and windows were modernized by adding insulation facilities. The outer walls of the living room were removed to give it a new look and to let the natural light come from all directions. To make the garden visible from the living room a glass pavilion has been attached to the living hall which faces the rivulet flowing near by.
Via: Dezeen