Vibrant Jewelry from Pottery Shards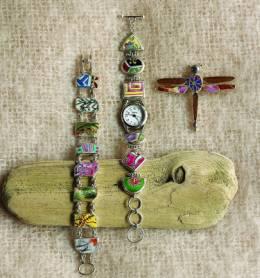 The colorful jewelry from shards of vintage French plates are bound to add colors to your mood. This magic with the scenic beauty is created by the collection of Jessica Lee's transferware pottery designs. Yes, all these jewelries are made of pottery shards. She has brilliantly recycled the otherwise landfill wastes.
The unique pieces, with no similar idea reflecting from the designs, they are all irregularly shaped with the found fragments set in sterling silver bezels. The collection of bracelet, adjustable watch and dragonfly pin reflect vibrant colors and diversity. Each Pottery Bracelet is on sale for $69, with the Pottery Dragonfly Pin for $98 and a Pottery Watch for $178.
Via: Viva Terra