We aren't new to furniture made from vehicles, but each time we come across a new design, our perception takes a new swing, and our eco conscious heart tells us to take it home. This old Vespa scooter converted into a desk brings to life similar emotions. It has been designed by David Giametta who used the frame of the genuine 1968 Vespa Piaggo scooter and mounted a laptop over its handlebars, and placed a few books on its back seat.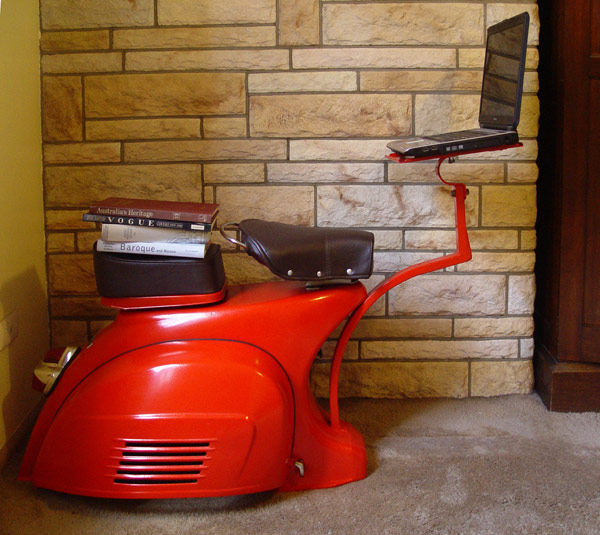 The design is lovable and you will surely enjoy sitting on it for playing video games, reading or even completing your pending office work. Due to strict government regulation, it is difficult to keep old classic vehicles on road, therefore, according to the designer it is better to transform and recycle these vehicles into useful items like desk, chairs etc.
There are many creative people with different ideas but this one stands apart because it gives the illusion of a real ride while sitting on the old Vespa and doing your work. Ergonomically the design of the stationary scooter may not be too sound, but then a little sacrifice for style and coolness might be worthy. It will be great to have friends over at home, who would not only admire the aesthetic beauty of the desk but might also have some good words in your praise for going green.
Via: Walyou