Verrazano-Narrows Bridge gets a brilliant green makeover with spectacular LED lighting!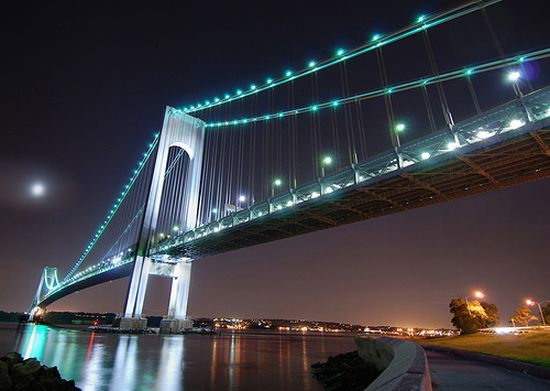 It is wonderful to watch that some of the marquee structures of the world are getting a green makeover and they are doing it without losing any of the charm and the grace that they have presented to the world for many decades now. We have already seen the Empire State Building get a green makeover with the new LED lighting that has replaced the old shiny and inefficient lights of thr past. Now it is the Verrazano-Narrows Bridge that gets the same new look and it looks pretty beautiful to say the least.

At the Verrazano-Narrows Bridge today, a maintenance worker suspended in a bucket truck replaced the first of 262 fifty-pound conventional light fixtures and necklace lights with a new lighter fixture and an energy-saving light-emitting diode (LED) bulb. The Verrazano-Narrows is slated to be the first among the agency's seven bridges to have hundreds of LED necklace lights installed in the next year as part of the authority's environmental program. This not only saves truck load of energy for the world, but it also makes for less carbon-emissions and that is indeed a 'cool' thing.
These lights will cut necklace light electricity use by 73% and, because they have an estimated 5-to-10-year usage expectancy, the move increases worker safety by minimizing the need to change lights or "re-lamp", high above traffic, which would require lane closures below and cause delays. That is something that many would be happy about. While some would crib about the extent of lighting and the brilliance of the new look, if properly done LEDs can be the most brilliant on the planet.