World's first biodegradable vacuum cleaner made from recycled cardboard is eco friendly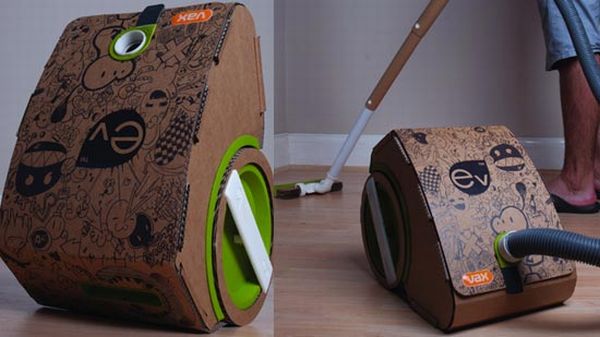 It is an era of people who talk green, walk green and live green. Everywhere, people are becoming environmentally friendly and thinking of various possible ways to saving the earth. Recycling is one of the very popular and most important steps taken to show environmental concern. Do you know that the trash in the landfills is a great environmental threat, as it contributes to pollution? Recycling has been a successful process to keep the waste out of landfill by collecting that rubbish and turning it into new products.
This process has been practised since ten years and is now a mode of business for some companies now. By recycling every possible object we can do our part of saving the earth from getting polluted. Jake Tyler, a Loughborough University student has constructed a vacuum cleaner from recycled cardboard and has contributed his share for saving the planet. Called the 'Vax EV', the vac is made up of sustainable material, that is a recycled cardboard taken from a shipping box.
Not only the case but also the internal machinery parts are made up of recyclable materials like pure nylon plastic that uses RP (rapid process) manufacturing instead of injection moulding. The young British designer, Jake Tyler, claims that his creation is no less than a traditional vacuum cleaner and costs much less as is made out of recycled materials which can be further recycled. And since the whole thing is made out of cardboard it can be decorated as pleased with felt tip pens.
The cardboard vacuum can be assembled easily by using the cardboard it is packed in without any requirement of the glue. In case any part of Vax is damaged, it can be replaced easily, without any hassle as it is made of cardboard. The Vax is definitely cheaper than the conventional vacuum cleaners which are made up of plastic or any metals. Recycling is important due to various environmental factors as it saves as energy, helps in reduction of pollution, saves natural resources and of course lessens litter consuming less landfill space.
Cardboard is used in nearly all packaging stuff that we use in our daily lives and is used for most shipping and storage boxes. The cardboard is a naturally biodegradable material and recycling it is much better instead of leaving it as litter. Earlier, a U.K.-based artist Kyle Bean has created various gadgets using recycled cardboard and now it's Jake Tyler who has created this vacuum cleaner made of sustainable cardboard. Let us see what more cardboard gadgets will be seen in future.
Via: Dvice