Using less silicon, increasing solar cell-efficiency by 40-50%!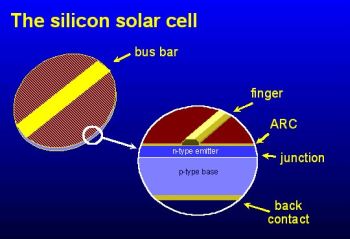 Here is a new technology that boosts not only the performance of solar cells by 40 to 50 per cent, but also reduces the amount of silicon use for a similar output! That sounds high efficiency for solar cells!
This project is taken up by Vikram Dalal, the director of Iowa State's Microelectronics Research Center working with PowerFilm. According to him, since there is a shortage of silicon for solar cells, this new way of manufacturing solar cells uses a lot less silicon.
Dalal said 2 micrometers thick non-crystalline silicon wafers can replace the 300 micrometers thick crystalline wafers.
And the result is thin solar cells. But, these produce about half the electricity as crystalline silicon and their performance drops by about another 15 to 20 per cent over time. But, the new technology can improve hydrogen bonding to the silicon in the thin solar cells, helping to counter this effect.
According to Dalal, it could improve the performance of the cells by about 35 per cent, eliminating about 15 per cent of the drop in performance.