UBC students aim to drive across Canada in an electrified VW Beetle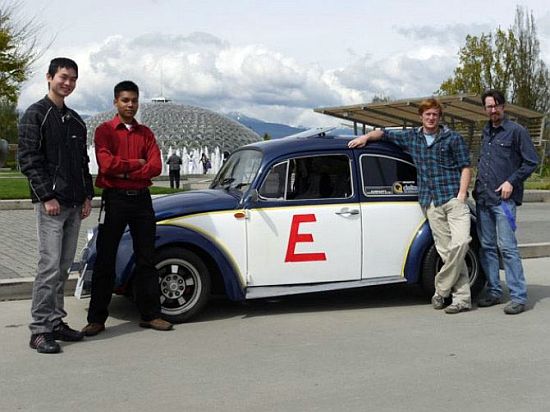 Eco Factor: Zero-emission vehicle powered by batteries.
A team of students at the University of British Columbia, calling themselves the UBC Electric Car Club, has set on an adventurous journey with an aim to set a record for the fastest coast-to-coast drive across Canada in a zero-emission home-brewed electric VW Beetle. The team set out from Vancouver last week and till now they've managed to complete a third of their planned 4000 miles.
The vehicle, which is a modified variant of a 1972 Beetle, runs on a three-phase AC induction motor that sources juice from a lithium-iron phosphate battery. The car has a range of about 185 miles at a speed of 60mph and over 340 miles at a slow speed of 30mph. Top speed has been limited to around 85mph and charging the onboard battery pack takes about four hours.
The car also sports four wheel discs with regenerative braking systems to generate some power for the batteries while braking. If all goes well on the trip, the team plans to enter the car in the next Zero Race.
Via: Autopia