Turning the global village toward green ways with organic vessels
It is indeed interesting to see many modern designers and artists bring out the 'recycling' and 'sustainability' theme to the forefront with their works. It once again exemplifies that the most creative and gifted among us are the ones who visualize the way forward, and many of them do seem to see that road ahead as the one filled with eco consciousness. Simone Farresin and Andrea Trimarchi from Studio Formafantasma have crafted utensils that are truly a throwback to the times when things were a lot simpler and probably lives a lot more peaceful.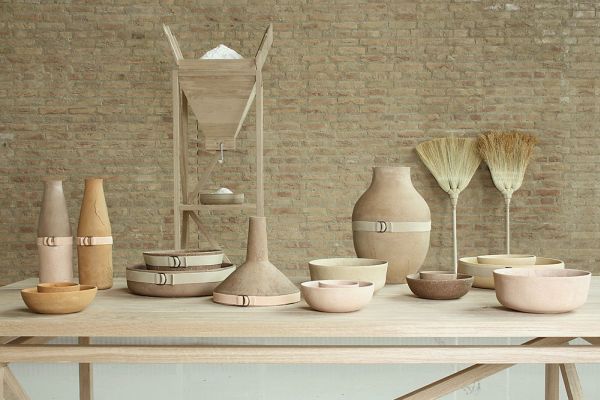 The line of functional vessels designed by them is dubbed as 'Autarchy' and they are made out of a unique blend that uses 70 percent flour, 20 percent agricultural waste, and 10 percent natural limestone with the colors on top being extracted from vegetables and spices. There is also a coating of natural rubber on top to make them water resistant and they are completely biodegradable. This makes the vessels truly a delight for those who love both the rustic design and the planet friendly make.
The idea of Autarchy is also to create individual social pockets that are self reliant and produce goods using locally available raw materials and yet the final design has a global appeal. The idea of using only locally available elements for production does save on both energy and resources that are otherwise wasted in transport. While most of us will not yet chuck away our kitchen utensils for Autarchy, the idea is well and truly to promote more efficient and smart products that are easy on the planet.
Via: fastcodesign