Trizin Stools made from warped wood lead the way for clean modern aesthetics
Furniture should designed to be lightweight and that which occupies lesser space.Along with this it should ensure safety and also be and pleasant and good to look at. In this reagrd, furniture made especially from warped wood is minimalistic, durable and aesthetically good to look at. Michael Blumenfeld recently designed eye catching and elegant Trizin stools that caught the attention of all, at the Salone Del Mobile exhibition.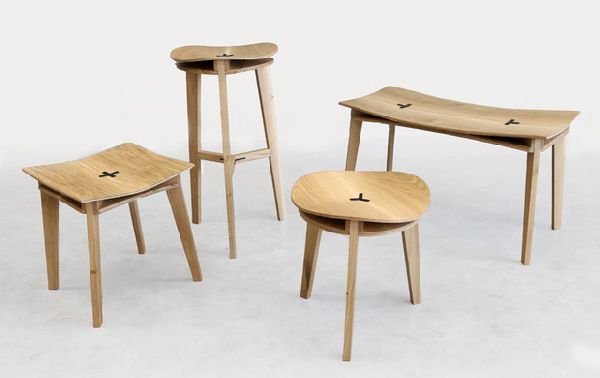 Blumenfeld, designs graduate presented this unique series of TRIZIN stools, which graced the fair. The main motive behind creating these stools was to experiment with the physical boundaries of raw wood while using the conventional woodworking techniques. Each piece is simply constructed using some unrefined wood, specifically plywood, a lock at the center to fasten it and a lot of pressure. The stool is made by forcing a wedge that is fastened to the top end of the legs of the stool, into two smooth pieces of wood. The moment the legs are joined, the wood bends and finally gives shape to a comfortable seat. Using the least amount hardware and no glue or adhesive of any kind makes it more stiff and durable.
The Trizin Stool collection may sport simple aesthetics, but the construction of each seat which combines raw wood and an artistic construction is a lot more complex, than it appears to be at the first sight. The unique use of wedges, as its name suggests, not only helps to hold each stool together, but it also gives them their smooth, shiny and sloping shape. Buying these stools will be a very good investment because it will last a long time and will add more peculiarity and charm to your home.
Via: Coolhunting