Toys 'R' Us leads the way in solar energy harnessing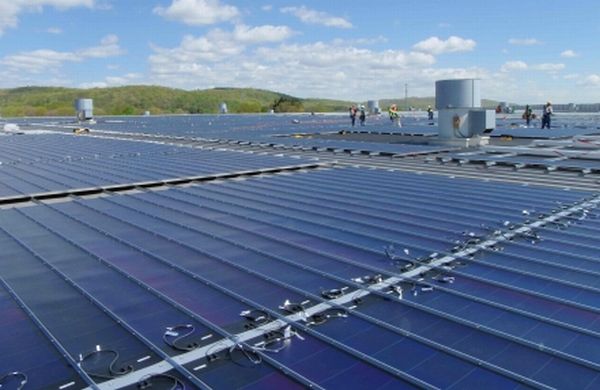 Supposedly the environment is in a few safe hands. Toys "R" Us, the mega toy and electronics retailer of U.S. has recently come up with the most ambitious rooftop solar project possible in North America. Proposed to be located at its distribution center at Flanders, New Jersey, the mega retailer has announced plans for covering almost 70 percent of its roof with solar panels. Considering that the Flanders distribution outlet spread over more than 32 acres is the largest distribution facility of Toys "R" Us in U.S., the proposition of covering 869,294 square feet (approximately 20 acres) is by all means a monumental project.
Through this massive undertaking the toy retailer intends to generate almost 5.38 megawatts of solar power when the rooftop's solar layout gets over; the projected time schedule for which is by the end of this summer. Also, this solar farm is projected to consist of about 37,000 uni-solar lightweight photovoltaic panels which are currently being manufactured in the U.S. by United Solar and, the resultant output from these panels is projected to satisfy almost 72 percent of the Flanders distribution facility – definitely not a mean feat.
Meanwhile, the mega retailer acknowledging the fact that solar electricity production is variable has also hired the services of Constellation Energy to overlook not just the designing of the project but also operation and maintenance when complete – a step that would address proper utilization of this harnessed power. No doubt this project has received visibility due to its sheer size, but its worth a mention that Toys "R" Us has been doing its bit towards the environment by concentrating on harnessing solar power since quite some time. Toys "R" Us had previously at its offshoot Babies "R" Us in North Brunswick, N.J. also installed a solar installation which till date has been providing 67 percent of this store's electricity needs.
Meanwhile, in addition to Flanders, the retailer is also working on another of its superstore at Secaucus, N.J. for a similar installation though on a smaller scale. However, this solar farm is projected to satisfy just one third of the store's electricity requirements. With so many solar farms on the anvil especially in New Jersey, courtesy Toys "R" Us, N.J. has today accidentally emerged as a state that is ranked second for the most solar photovoltaics installed.
Via: cNet