The Rhoades Car gets a makeover, courtesy Bicycle Forest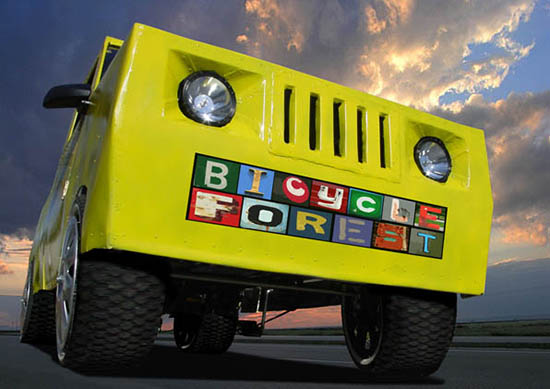 Bicycle Forest, an American group that promotes bicycles and other human-powered vehicles as a means of transportation, have just invested in a vehicle to promote their new BikeCAD software. It's a Hummer! Now, before you raise a cynical eyebrow, hear me out—the Rhoades Car is a zero-emission, peddle powered vehicle, making it a perfect choice for the group.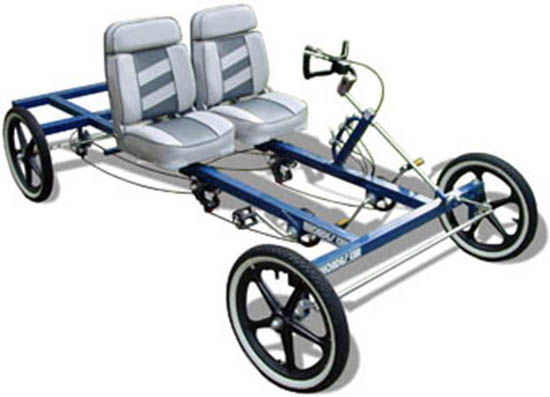 Despite its obvious performance hiccups, the Rhoades Car is the most fuel-efficient, eco-friendly car on the road. With compound transmissions of up to 42 gears, each vehicle is equipped with a butterfly-shaped steering wheel, marine grade vinyl seats and molded black mag wheels—just the bare minimum as you can see from the pic above.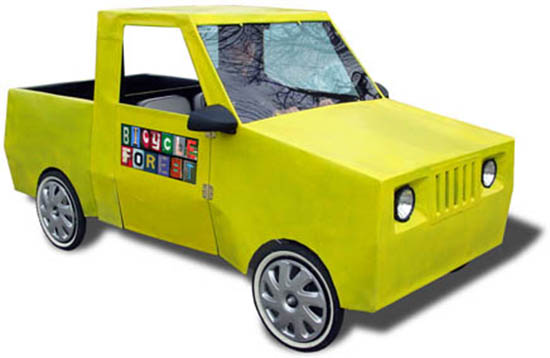 However, in order for the car to be a worthy company vehicle and a billboard for BikeCAD, several changes were in order. Bicycle Forest's initial idea for the vehicle was the Hummer, a huge gas-guzzling SUV. With this in mind they welded together a chromoly (chromium-molybdenum) steel frame that resembles a pickup truck and wrapped it with 30-gauge galvanized steel, giving their Rhoades Car the look of a Hummer. A bright shade of John Deere yellow was chosen and sprayed all over the new frame along with the company logo. And finally, the finishing touches include a Plexiglas windshield, 55W headlights, LED tail lights and rear view mirrors, and a set of aftermarket hubcaps. Despite adding an extra 138 lbs to the car, it looks better than ever before. Here's to Bicycle Forest and Rhoades Car for their brilliant eco-friendly ideas.
Here's a public service announcement they made using their souped-up Rhoades Car.
Via: Bike Forest