Texcoco Lake Ecological Park could be one of the largest urban parks upon completion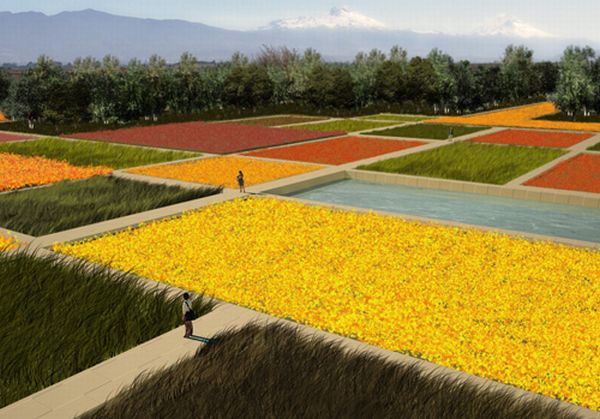 Mexico, one of the oldest metropolitans in America and built on the natural Lake Texcoco, is set to be the world's largest urban park. The leading architect and landscape artist of Mexico Iñaki Echeverria would be looking over the entire project of the urban park, which has been named as El Parque Ecologico Lago de Texcoco or Texcoco Lake Ecological Park. The plans for this urban park are quite massive and involve a lot of work.
The city of Mexico is built on the natural lake Texcoco, and the site for the project was the area where the residents of the city built canals and dikes for water drainage. In the process, the site for the urban park, rich in fauna has been under negligence for quite a long time now. Therefore, Echeverria is aiming to deem the site as one of the most important green areas of Mexico, to reestablish the natural vegetation of the area and also eliminate the risks of constant floods to the city.
Texcoco Lake Ecological Park would cover more than 35,000 acres, which is really huge compared to any other ecological park in the world as of now. Owing to the hugeness of the park, it can house an array of facilities and infrastructures, all under one roof. Sports fields for different types of sports, lakes, community gardens, museums, canals for boating and water sports, mountain cycling tracks and more, such sports facilities would be made available within the premises of the park. There would also be separate tracks for walking, cycling along with public spaces for recreational activities. The project will also undertake responsibilities like reforestation, re-vegetation and introduction of species that were once a part of the Mexican ecosystem.
With the use of sustainable materials, accountable design and environmentally conscious efforts, Iñaki Echeverria is hoping to set an excellent example of green infrastructure before everyone. The natural availability of alternative sources of energy such as wind, solar, bio-fuel from algae and waste found in the area, termocombustible energy in abundance at the site of the urban park would be used to power various activities of the park. The Texcoco Lake Ecological Park thus is an honest effort towards building a green site and once completed, it would set a benchmark for other architects to follow.
Via: Iñaki Echeverria