The term 'recycling' is an abstract notion for many of us who don't engage in its practice. It conjures images of people separating paper from plastic and walking about touting the many benefits of recycling. But what if we could see elements in their natural state and get to observe them in their settings? Would we be more inclined to reuse and recycle knowing where exactly our products come from? Along this vein, Latvian designing firm Sampling has conceived the Terevete Interactive Educational Forest Centre to serve as a place where researchers can conduct studies and people can learn about resources, building materials and the energy saved using different applications. The concept is part of an open competition proposal for an exhibition and information center.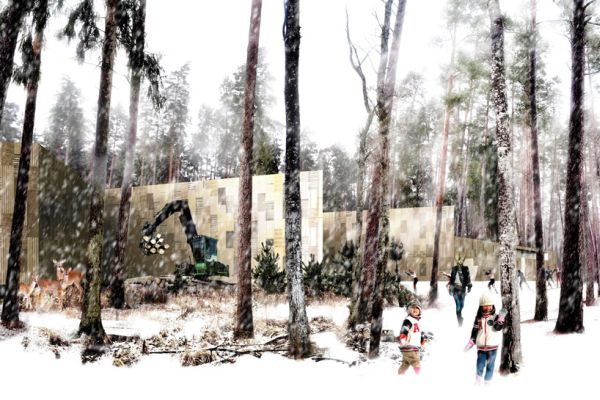 The center will be divided into classrooms, exhibition spaces and conference facilities. The exhibiting halls are designed around the four seasons with a unique-shaped skylight. The visiting public can interact at the café, restaurant and shop while professionals will be able to avail of the information areas and workplaces.
A look at the plan from above shows a zig-zag structure towards the ends of the building which will house the private and public spaces so that they don't merge with each other and offer privacy to the professionals.
Aside from giving researchers a chance to conduct studies and offering the public an opportunity to enjoy the surrounding forest and learn from it, the center will be a self-sufficient education hub during the four seasons with the use of rain water harvesting, solar energy and natural ventilation. For heating, the center will rely on a biomass oven, a ground source heat pump and a sun collector for heated water. To meet the building's electricity needs, a solar battery will be installed as well as an emergency diesel generator.
Via: Designboom