Take a nap in the gentle lap of nature: The Cinderella bed!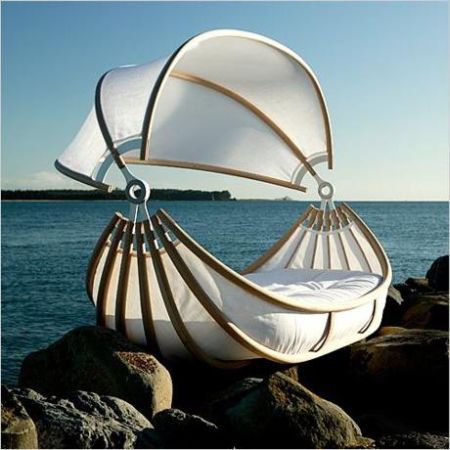 I first took a look at this thing & immediately thought it was something associated to Para-gliding. I have seen some strange stuff over the years with couples getting married under-water or when they are jumping off of a plane 10,000 feet above the earth. So I thought someone, somewhere took that concept a tad bit further by hooking up a parachute to a bed. But then I was wrong & now I also realize that my assumption was stupid, but we won't get into the details of that. (Yes, I'm crazy)
But this in actual reality is a bed crafted out of some very eco-friendly material. The bed is made by a company called Okooko from New Zealand. (Now what does this name mean?) The company produces the mattress of the bed from all natural materials including New Zealand wool. I suppose I need not speak much about the looks of it. The picture speaks for itself. It looks fabulous, simple as that. The mattress costs around $2500 while the bed starts at $2200. Last time I had my friend Ramya comment on my article saying she would love to buy me the "solar toy frog" & that is indeed very sweet of her. (I hope other readers follow suit). Now Ramya, forget about the toy, just get me this one. (I called it Cinderella bed, so I become Cinderella man-Russell Crowe). Simple swap, Ok?
Despite all this you must agree that my initial concept of a gliding bed was great. Attach a bed like thing light I weight to a bigger parachute & let a wacky couple celebrate their marriage as they gently (& I mean real slowly, as in the slow-mo in movies) drop towards the earth, gliding like a feather, with the full moon making the backdrop as the beautifully crafted, tear-drop shaped pristine white bed touches the sandy beaches of a shore where the ocean waves kiss your feat & the gleaming stars add shine. Ok, ok, don't shout at me. I'm off.