Sydney warns against Global warming
As the clock went half past seven in the evening on Saturday, Sydney found itself blackened. It was complete dark all over for an hour. The blackening had a purpose. The purpose was to herald a warning for the biggest disaster facing us on earth in the form of Global warming. With only the light of the moon visible, the Australian people picnied around and participated willingly in the event.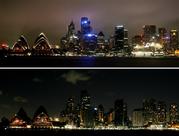 Australia is one of the many countries that are facing the severest threat that global warming is imposing. It is the world's worst greenhouse gas emitter per capita, largely because of its heavy reliance on coal-fired power stations. If temperature keeps rising the way it is, than average temperatures in the country could rise 6.7 degrees by 2080, making worse wildfires, floods, drought and storms. The Great Barrier Reef is already under threat from increased coral bleaching. Seeing global warming as a challenge, Australia has finally initiated. And now, it will sponsor many such events that highlight global warming.
The event was the brainchild of WWF, and many leading corporations in Australia. Organizers hope that Saturday's event for which about 2,000 businesses and more than 60,000 individuals signed up for online will get people to think about regularly switching off nonessential lights, powering down computers and other simple measures they say could cut Sydney's greenhouse gas emissions by 5 percent this year.
Though Sydney is not the first to initiate in this direction. Previously, Paris and other parts of France dimmed the lights for five minutes in a similar gesture, which also took place in Rome and Athens. Sydney's cut off was for an hour and it is the longest cut off in duration. It is hoped that such gestures are followed everywhere. Though it is just the beginning. Miles more to go.
Via:AP