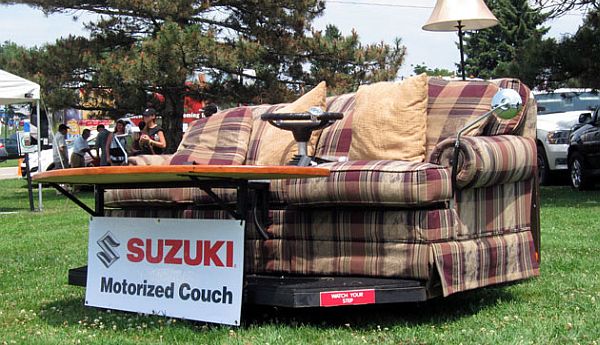 We all know that the electric vehicles are the future of transportation, and it is a good thing, because these vehicles will help us get rid of smoke belching, fuel guzzling vehicles which are currently the common mode of transportation across the world. These days, nearly all automobile companies are busy developing their own electric vehicles. Latest to join the bandwagon, is Japanese automaker Suzuki which recently showcased its very unique Motorized Couch that is powered by electric motors.
Suzuki's vehicle is significant because the company did not spend millions to develop it unlike other companies, and the credit goes to the engineers at the company's North American plant. Suzuki's product is different from all other electric vehicles we have seen so far because it comes sans windshield, headlights, airbags or other paraphernalia that is attached with a vehicle.
It also has no weather protection. The vehicle, which was unveiled recently at Pittsburgh, is definitely the most eco friendly car we have seen so far. The couch was unveiled as part of Suzuki's Kizashi Kicks campaign. This motorized couch is powered by a 48-volt Club Car motor, which is definitely not very strong. Its width is 80-inches while it is 36.5-inches deep.
All four wheels of this are driven by electricity. Suzuki however, did not reveal the top speed and performance or range data. Like all electric cars, this "E-couch" is also noise-free other than the slow whir which comes from the electric motor. Suzuki has fitted single-disc hydraulic brake in the couch. The couch can seat three people comfortably. Talking about performance, though it can't match Nissan Leaf or Tesla Roadster, but when it comes to comfort and uniqueness, it is definitely way ahead of the others.
Via: Autoblog