Harmony Tower is pointy skyscrapper which has been deisgned by architect Perrault. It will be located in the north-eastern corner of the Yongsan International Business District. This new skyscraper will have offices on 38 floors out of all the 46 floors. Sheltered gardens will provide scenic Han river views. This building will be in line with the southern and eastern facades. The ground level base of this tower will also inch towards the interiors to give a spacious look around the entrance.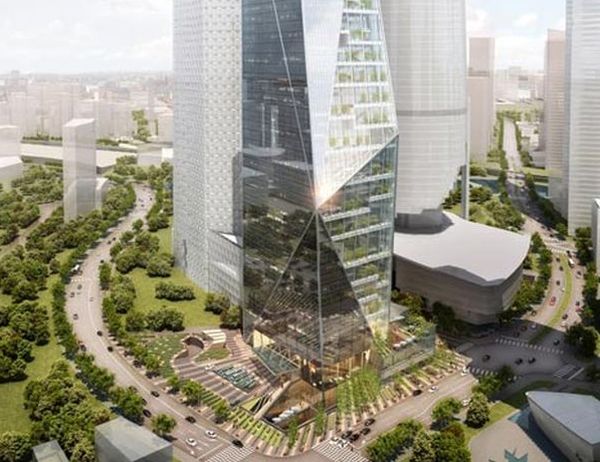 Harmony Tower in Seoul, South Korea is a project of the new Yongsan International Business district. This YIBD project is an iconic high-rise building of the 21st century which is made of sustainable materials. It has 46 floors with an innovative design enthused by YunDeung. The chiseled tower is finely cut by the urban context. The spacious base gives a feeling of openness for the pedestrian arcade. The tower captures the light from various angles that creates a glowing access to this iconic tower. The tower is deigned in a way that allows maximum light on its top and air to the surrounding towers creating a rising peak to the tower.
The multistory building offers multiple views and creates diverse perspectives. The high rise has an unique upright winter greens on the south and west facades. This gives the users admittance to natural aeration at every office floor. These gardens benefit the glass building by prohibiting direct sunlight and act as a special comfort to all the occupants. With the focus to maintain the green attribute of the building; the gardens also help in reduction of heat gain. This helps the state of the art workplace to function more sustainably.
Via: Dezeen