Sometimes you don't plan to do things, but still they happen. Such an example is this prom dress created out of pop tabs by Regan Kerr, junior at George Washington High School. It was two years back when engaging her friends and family, she started to turn her soda cans pop tabs collection into this marvelous masterpiece. Earlier, those pop tabs were just a strange collection that became a joke later and finally ended up as a prom dress.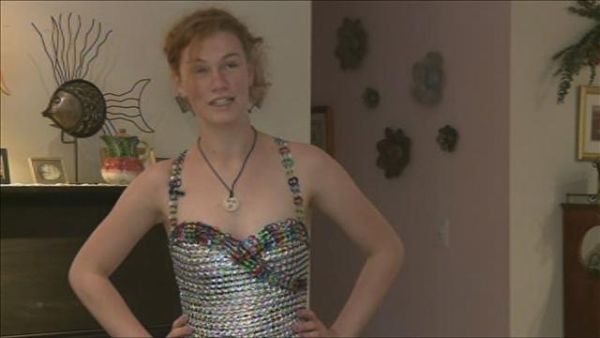 In total, it took 5,114 pop tabs for the completion of this dress including the five months hard work of sewing. Firstly, the dress was supposed to be strapless, but the weight of the pop tabs turned out to be more then Regan's expectations so she had to add straps to it. There were also many other issues that were resolved as per the requirements. In total, the dress looks amazing and the silver colored pop tabs look impressive when the light is reflected by them.
According to Regan, this is the first ever dress made by her and no skills were required for the making as she just moved the needle up and down. She was very excited about the final outcome and wonders what people has to say about her creation.
Via:9news