Streaming multimedia from the sun!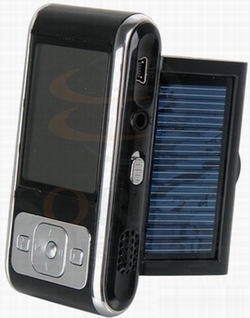 Here is an idea that I thought should have hit the market a long time back. I use a calculator whose battery is charged by the sun. There are solar cookers, heaters & what not. It seems ironic that more companies have not thought of making use of this source of energy in case of cell phones or PMP's. Zhejiang Sorbo has stepped in to change all that with its solar powered PMP.
I understand that is a product has a surface area that is too small such a technology is hard to integrate. But with most of these devices their back panel seems to be a perfect place to put a solar panel. The Chinese company has employed just that technique for its new light powered SB-5007 PMP. It contains a solar panel at the back which charges the internal battery of the device using the energy of the sun. if you are thinking that the product is confined to only that one uniqueness then think again. It is a gadget loaded with features & acts as a mass storage device.
It looks cool, stylish & functions brilliantly. To top it all off, you need not plug in he charger every time. I love the idea & think it should be incorporated on all small gadgets. Running out of charge in your cell is annoying when you are outdoors. Especially for someone like me who always seems to forget to charge his cell before a holiday trip. With this, now you can just go out & get recharged.