Stormy Monday Goods creates trendy art from old skateboards
An American company called Stormy Monday Goods recently launched a thoughtfully repurposed skate and cutting board, which are branded with a simple thundercloud. These unique creations are an effort of love from a certain individual based in Southern California named Neil Harrison. He worked at Quicksilver for almost 20 years and after helping Volcom, made up his mind to start working on his own projects.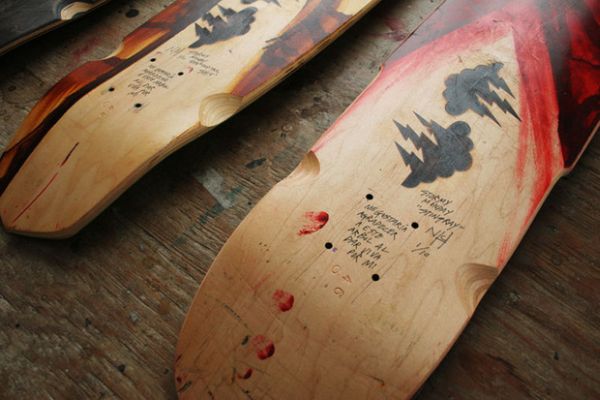 Stormy Monday was envisaged during a Portland trip in 2006 when Harrison was visiting friends. He saw the work one of his pals had done on repurposed skateboards. Inspired by the idea, Harrison decided to make one for himself and was immediately hooked. After returning to Southern California, he began gathering and collecting used boards from friends, team riders and team managers in the skate world who always have a stack of used boards lying around. With the philosophy of 'Recycle, repurpose and reuse', the Stormy Monday brand was brought to life.
The first step of the process was to strip the grip tape of the boards which can either be peeled off in one to three pieces or can be broken into bits. A shape pattern is then traced onto the board, cut out and smoothened. The '3 Bolt Storm Cloud' logo is pasted on the board, after which comes the painting, staining and completion of the rails and wheel wells. Each board is finally number-stamped, signed and entered in Harrison's log book.
Creating cutting boards or cheese boards is similar to the process of creating skateboards. Harrison uses his friend's woodshop which sometimes has discarded wood. He also looks around for scrap wood which people leave on their yards. Many of these undesirable wood pieces have knots, sap or mineral streaks which Harrison finds are perfect since those flaws make the boards interesting.
The Stormy Monday brand is currently selling skate decks at $125 and complete boards with denim and Hawaiian made surfboards for $225 through Shelter Half.
Via: Coolhunting