A spectacular eco friendly home built in the middle of a forest
Making use of wood could be termed as one green way to construct your house. They are not only beautiful and cozy, but they blend well with the surroundings as well. In the process of building a home away from home in a forest, many trees need to be cut down and the best way out would be to use them as a source of timber. After cutting the wood from the tree, it is primed for use as building material. This is what the Australia's Paul Morgan Architects did while building a spectacular cabin in the forest.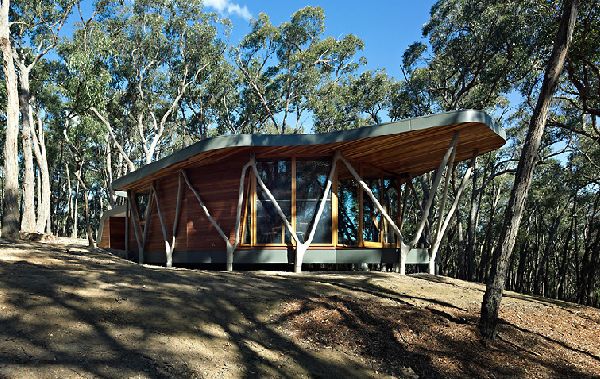 These architects made use of the local resources to construct this amazing cabin in Victoria's Central Highlands, in Australia. This house, which measures up to nine hundred square feet was build for a married couple having a daughter attending college who requested for a small cabin in the forest where they could put into practice their choral singing and also enjoy a fruitful weekend.
Accordingly Paul Morgan Architects erected this cabin using a mixture of the leftover and newly reaped wood. They built a round formation having huge windows that give a magnificent sight of the lush green surrounding. The roof shielding the cabin is supported by the tree forks that are made from the pieces of wood found in the forest, which are joined in straight lines giving it a triangular shape. In addition to this the trees, which were cut from the place where the house was to be built were also put to use. These trees, with the help of a small grinding machine that was brought to the site, were transformed into lining boards for the living room.
This gorgeous cabin made from the trees is an excellent example of green building, which makes the environment healthy and benefits all the inhabitants.
Via: Fastcodesign