SOLARA: Fully solar-powered apartment complex
Published on July 20th, 2007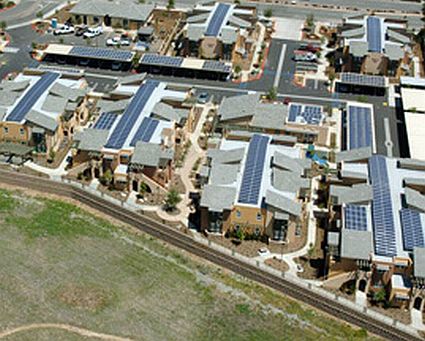 Whenever we talk about alternate energy, solar energy is the thing that strikes the mind first. People are now looking forward to power homes with better energies than what were used a decade ago.
Still solar-powered single homes are a thing of the past and to change things even quickly we have to design apartment complexes that run on solar energy. SOLARA is one such complex that is powered completely by clean and green solar energy.
The complex recently opened in Poway, California and claims to be the first fully solar-powered apartment complex in the state. The complex has 56 apartments and office spaces that are located at walking distance of other public services. If you still feel that these houses will be owned by just the born rich then you are completely wrong.
The SOLARA is owned by the San Diego based non-profit Community HousingWorks, which developed the complex in order to provide green but affordable housing. The SOLARA also claims to reduce the carbon footprint by about 95% when compared to other conventionally powered complexes, now that's what we call ECOFRIENDLY…!
Via: Treehugger
Leave a Reply