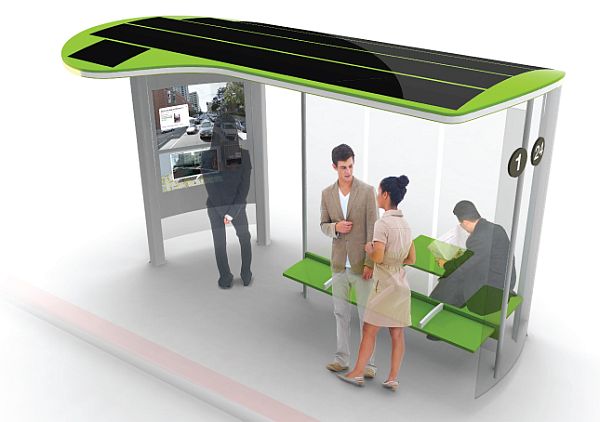 Exclusively solar powered bus stops (or rather euphemistically shelters) are gradually but surely making their presence known in the public transportation sector. Previous designs, such as the EyeStop and ROUNDbus stop, have already been conceptualized to induce that special kind of eco friendly ambiance, in view of our daily commutes. And following along this green progression is the conception simply dubbed as the Solar Stop, which has been conceived by industrial designer Jae Pyung Lee.
Solar powered bus stops have always been about the collective sustainable usage of public space. Thus improving upon the efficiency and green quotient of public amenities, Solar Stop will incorporate a plethora of user friendly features that hinge on the practical side of affairs. According to the designer, he bills his conception as a 'multi-functional solar powered bus stop' with convenient attributes, such as street lighting, LED indicator, air sterilizer, Wi-Fi, charge station, touch sensitive screen, bill changer and even a water vending machine.
The inclusion of such features doesn't really mean there would be dearth of circulatory space for the commuters, when they are waiting for their buses. The efficacious conceptualization reflects in its simplistic bearing with ergonomic considerations on part of the designers. The 'interior' furnishing will include a seating area with small tables, wide pathways along with innovative yet totally green lighting fixtures. So basically Solar Stop will give us yet another iteration of a sustainable, cost effective yet convenient form of public spatial arrangements in urban areas.
Source: JaePyungLee