Solar-powered 'tuk-tuks' could revolutionize Bangkok's way of life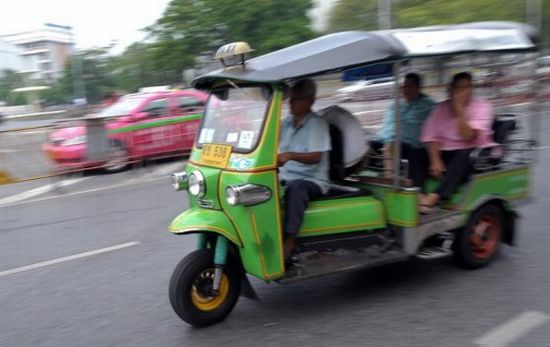 Eco Factor: Zero-emission electric three-wheeled vehicle powered by solar energy.
Auto rickshaws, better known as "tuk-tuks" in Bangkok have been a feature of Bangkok and are often regarded as a unique symbol of Thailand. However, conventionally fueled tuk-tuks are polluting and need a redesign to stay for years to come. Air Marshal Morakot Charnsomruad has designed a prototype that could herald a cleaner, greener era on Bangkok's congestion-choked streets.
The designer is already selling an electric version of tuk-tuk through his Clean Fuel Energy Enterprise and has now tried to even better the credentials of the vehicle by designing a solar-powered version. The emission-free vehicle can run for 80km on a three hour battery charge and can hit a top speed of 60kph, even outstripping its gasoline-powered rival.
The solar machines will cost about 320,000 baht – about $10,000 – while the conventional tuk-tuk costs about 180,000 baht. The designer hopes that eventually government subsidies would make them more affordable.
Via: AFP