Solar powered tent with energy-efficient interior LED lights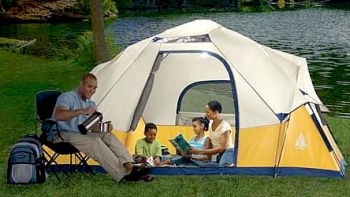 This tent is no simple one in terms of facilities and contributing towards the environment. Just place it anywhere and keep the worries of light as darkness falls. It has its own solar panel and integrated, interior LED lights to illuminate at night all by itself.
The solar panels attached to the tent can also be used independently to charge batteries. Just allow it with approximately 4-6 hours of direct light and it will yield 2-4 hours of light for the tent.
The solar panel is 7″ (18 cm) and is placed atop the tent's hub. The tent comes in 4 and 6-person version, and priced at $180 (CAD) and $220 (CAD) respectively.
Via: Treehugger