Solar powered gadgets that you can use in your house
Solar power is truly the technology of the future. There will be a time when homes become self sufficient for their energy needs, but we aren't there yet. The technology is still developing and even though one cannot have a fully solar powered house, there are still gadgets available in the market that can bring down your electricity bill. Here is a small list of a few solar powered gadgets that you can use around the house.
1. Eol'eau: A Wind and Solar Powered Home Gadget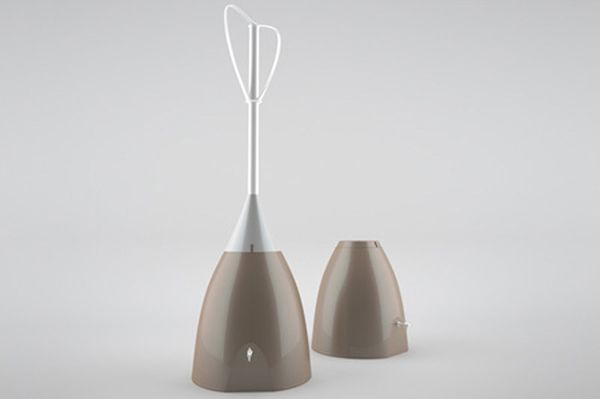 A gadget that not only helps to conserve water, but also generates power will surely come handy around the house. Rainwater can be collected in its 600L tank and this water can be conveniently sprinkled on planters through a tap located 30cms above the ground. The wind generator installed produces electric current.
2. The Solar Stairway Light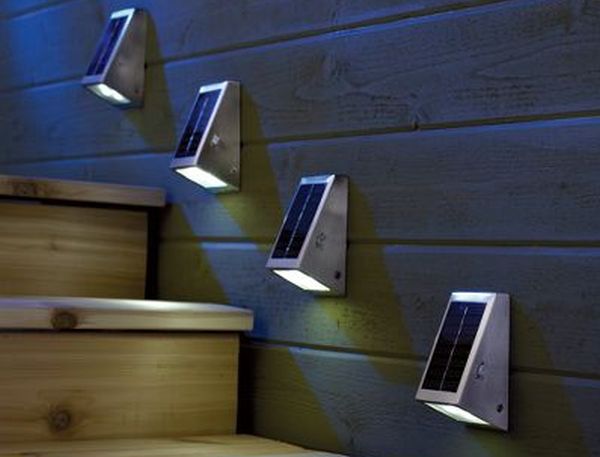 These 4 LEDs lined across the stairs provide illumination without affecting your electricity bill. Along the side of these lights, solar panels have been fitted that collect sunlight and generate illumination. On a full charge, these LEDs can provide light for 10 hours. Also, there is no need to turn them on or off. A built in sensor detects the light around and accordingly switches the LEDs on at any intensity required to brighten up your stairway. The product priced at $40 is available at hammacher.
3. Home/Office/Cars solar powered blue LED Smoke-free ashtray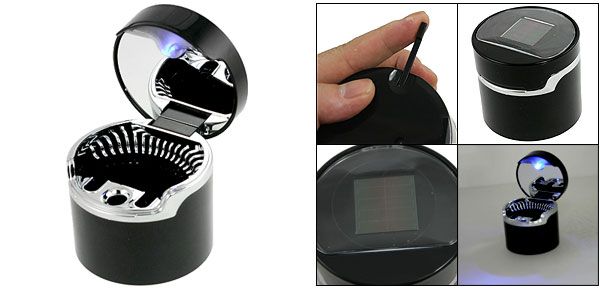 Helping you out with energy conservation are these solar powered ashtrays that also incorporate electric power storage capacity. You will not miss tossing inside the bin even when it gets dark as a blue LED has been embedded on the piece. This LED only lights up when you open the lid by 90 degrees. The piece weighing around 120 grams will cost you $15.
4. Solar Powered Electic Razor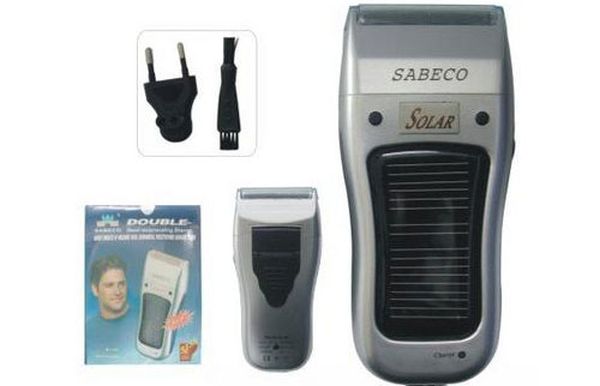 Electric shavers are very convenient and you will be absolutely thrilled when you find one powered by sunlight. Don't think many of us have heard of a solar powered razor before and so no one has thought of buying one. But in case you like the idea, you can always go for the Sabeco solar powered razor. Sporty guys and busy jetsetters will really like the idea of a shaver that they can use even when there is no electric socket around.
5. Landport Solar Powered Speaker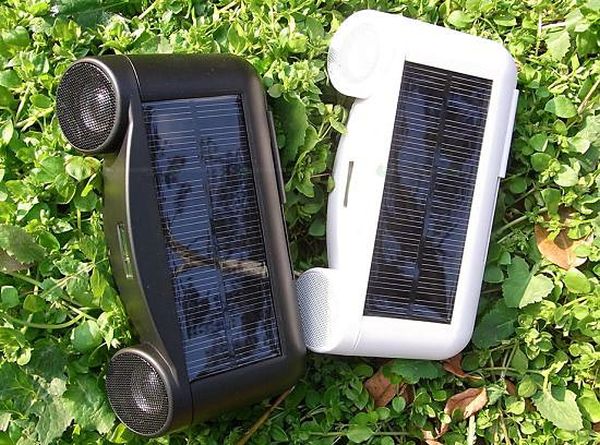 Music buffs who also care about the environment will be thrilled to have this piece from Japanese company Landport. The kit contains two speakers that have solar panels embedded on top. The 950mAh lithium battery plays at a frequency between 200Hz to 12KHz. Once charged, the speaker will play for an uninterrupted five or eightg hours. Also, when you can't depend on sunlight, you will always be able to juice up the piece using a USB cable. The $78 priced gizmo is available in white as well as black.
6. Solio CLIP-MINI USB/Solar Rechargeable LED Light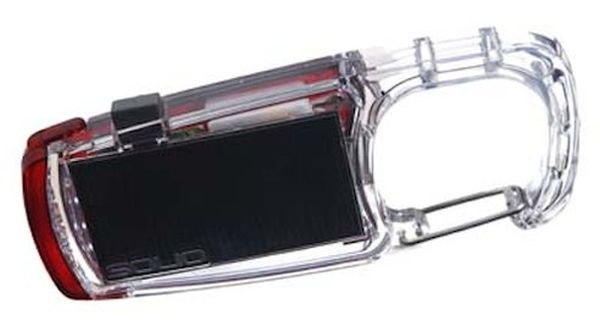 Combine the energy efficient LEDs with solar power and you have a gadget to die for. This pocket sized contraption called Solio Clip mini USB/ solar rechargeable light has 4 LED bulbs. The built in red filter helps with night vision while the piece can provide illumination for anywhere between 3 to 33 hours. Using sunlight you can charge the piece in 5 to 7 hours while a power socket can juice it up in an hour.
7. Illuminated Glow Brick Night Lights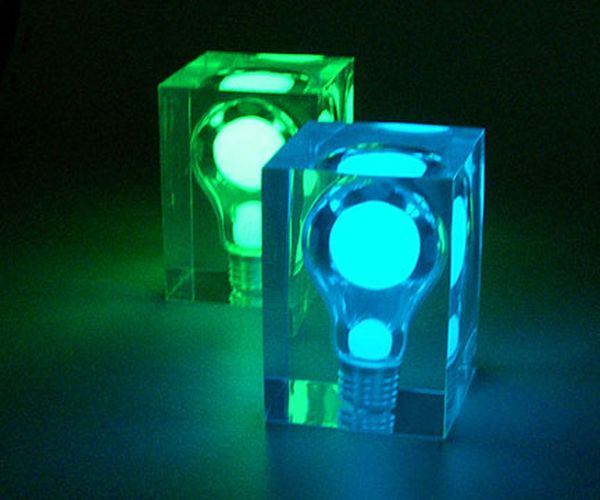 The tinted light bulb slotted inside an acrylic cube looks utterly groovy. The smashing night light is available in two colors of blue and green. The bulbs look a little edgy at times and will suit your Halloween decorations. However, they will also go well with classy modern décor done up in metal or glass. Also, they will look neat when you throw a bash in your pad.
8. DeepDesign's Disko Solar-Powered Outdoor Speaker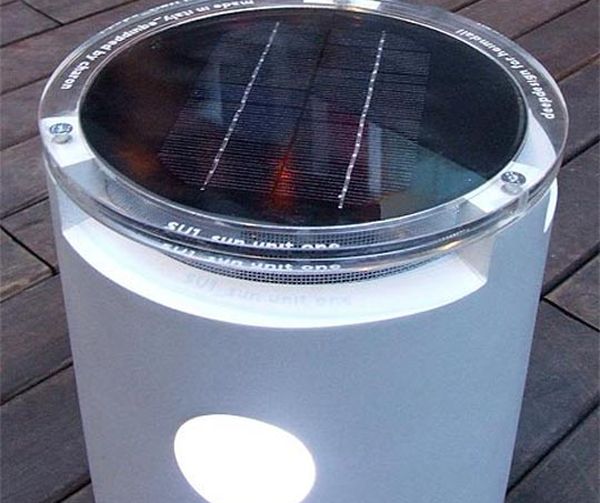 If you are looking for a cool speaker to blast off music in an open air setting, then your search ends here. This doodad, that actually looks like a bucket, is a showy speaker from Heimdall. The freestanding and wireless piece embedded with LEDs can easily be controlled by gadgets like iPhones and laptops.
9. Mobile Light: Kyouei Design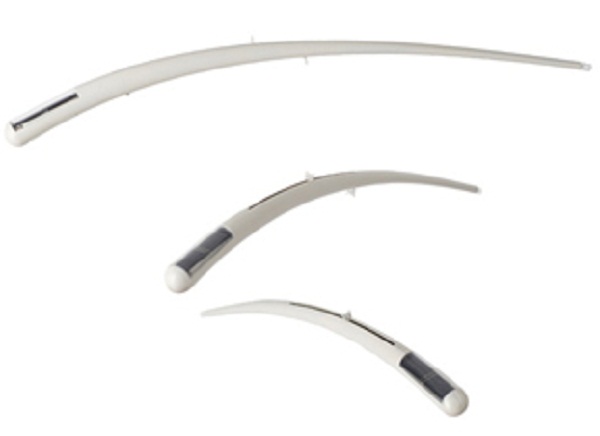 This sleek looking LED designed by Koichi Okamoto starts to radiate light as the sun sets. The mobile light hardly requires any maintenance and can be used in any part of the house. The fab piece contains 6 AA lithium ion rechargeable batteries that charge by soaking in solar energy during the day.
10. MIR: A solar powered Radio Alarm Clock for a green good-morning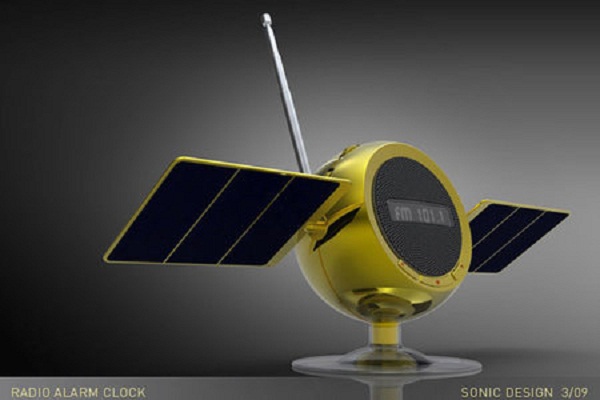 This design by Klaus Rosburg is still a concept. The super duper design looks like a futuristic plane and will wake you up from your sound sleep every morning.