Solar Panel battery charging just made your life more easy!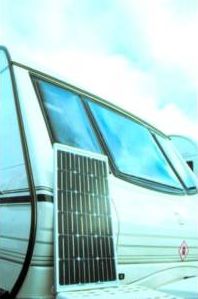 Thanks to the discovery of solar panels, sun's energy now can be used to do almost anything. From heating buildings to running water fountains and even in space explorations by NASA. The list is endless.
Photovoltaic, a technology developed by NASA in its modern form, has changed the way we perceive electricity to be.
Use solar energy to get electricity!
It is because of this technology that use of portable solar power has been made possible.
Be it mobile phones, cameras, laptops or even boats, portable solar energy can energize anything in an instant. One can carry it anywhere, land or sea, remote forest or highest mountain; it will even help you when you are out to hike!
Solar panels for battery charging are one such portable solar power. It is inexpensive(compared to the recurrent electricity bills!), can be taken anywhere and charges even on cloudy days.
An easy to maintain setup, absolutely helpful during long distance trips especially if you want to go on an earth exploration.
A few advantages are listed below:
1. Feasibility: It is feasible for long trips as it easily converts solar power into electricity. Just put up the solar panels and use it! No dependence on electricity.
2. It is inexpensive. You don't have to pay any recurring bills like electricity. Solar energy is free and available everywhere. Initial amount is all that you have to invest.
3. Completely environment friendly, emits no pollution of any sorts.
4. It is believed that a solar battery charging system cans easily double the battery life if its size and design is proper.
5. Reliable: They are so reliable that manufacturers offer a warranty of 20 -25 yrs.
6. Maintenance free:Regular cleaning of the solar panels is the only maintenance required.
7. New solar panels based on the finest crystalline silicon technology, boasts of high efficiency even on a cloudy day!
These products are easily available in the market and most of them come with a connection lead, a plug and socket assembly including cigarette lighter plug. With simple wiring instructions, the battery chargers are easy to install.
With so many options available with the sun's energy, it is definitely worth a serious consideration.
Via: Natural Collection