Solar Dok harnesses solar energy to power your gadgets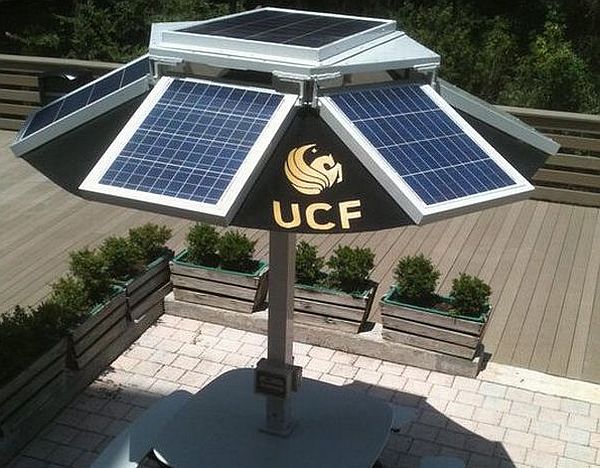 You would have heard of, and even used, a range of solar-powered devices that have been appearing in the market and making a space in your everyday life. There are so many equipments and utensils that have made solar energy as their operational base and have helped transform lives. Here is the latest environment-friendly, green solution, named Solar Dok, which you may use to charge your variety of gadgets and that too at any outdoor location! Sounds of interest? Then, you should check out some unique features to support its usage wherever you want.
If you keep several gadgets with you while going for a picnic or having a relaxing weekend at the beach hut, you may have faced problems when these gadgets got discharged and you had no sockets to plug these in or you were away from grid energy. At such a moment when it is important for you to have your gadget in a working condition, Solar Dok can come to your rescue! This outdoor gadget charging station has an umbrella on the upper part that is fitted with photovoltaic cells, sensitive to the sunlight. These photovoltaic cells help in harnessing the sun's energy and transform them to food for your hungry mobile phone or laptop. Check out this video!
More importantly, this umbrella can be adjusted at various different angles, and thus it gets exposed to maximum sunlight. It also has a battery for storage so an uninterrupted power supply can be passed on to the device being charged. Below this umbrella, is a seating plan to make you and your gadgets sit. The umbrella is connected to this base. You just need to plug in your equipment and there go away all your worries – for you to relax under the sun and have fun by getting involved in your ongoing activities.
Solar Dok has a digital readout with charge controller that will keep giving you a reading of power levels. It also has USB Type A, as well as 110 VAC GFCI power outlets. Along with the above features, the charging station in installed with an LED lighting system of 700 lumen that has high intensity but is low powered. The charging station's lighting system gets operated through a push button, and the machine is made to work at night through a timer. The green fact about Solar Dok is that it uses sun's renewable energy to power gadgets, but the greenest fact is its complete structure being made of the recycled material. You may call it a green machine that is an off-grid solution to all your charging problems!
Via: Planet Custodian