Size Matters: Ambitious proposal for North America's largest solar roof in New Jersey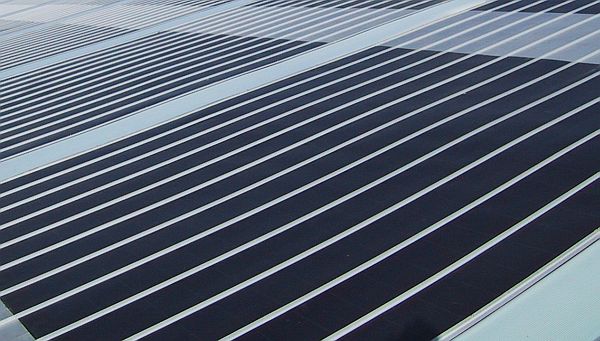 What is it?
An unprecedented storm of green technology revolution has furiously blown past New Jersey in the last month. Two back-to-back ambitious proposals of creating North America's largest solar roof have been announced. One of them, Jersey Gardens Mall in Elizabeth, unveiled plans for a solar installation on the mall's roof. Estimated to be completed in August, it will produce 4.8MW, 11 percent of the mall's energy needs, according to numbers from PSE&G. The other one is planned in Carteret on the roof of a distribution center for White Rose Inc., expected to produce 5 megawatts of energy a year. Interestingly, both of them if completed successfully, would individually cover more than double the area of the current American record holder – a FedEx facility in Woodbridge.
The Developers:
Based in Columbus, Ohio, Glimcher Realty Trust (NYSE: GRT) is a premier real estate investment trust, and is considered as a recognized organization in the ownership, management, acquisition and development of malls, which includes enclosed regional malls and open-air lifestyle centers, as well as community centers.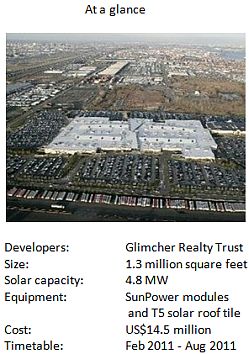 How big is it?
The project of Jersey Gardens Mall, with 1.3 million square feet of leased space, is one of the largest properties in Glimcher's regional mall portfolio. Illustrious tenants include Gap Outlet, H&M, Lord & Taylor Outlet, Neiman Marcus Last Call, Nike Factory Store and Saks Fifth Avenue Off. The gargantuan solar roof itself is expected produce 4.8 megawatts, 11 percent of the mall's energy needs.
How green is it?
The Jersey Gardens advanced solar system will be designed, installed, and maintained by SunPower Corporation. According to Tom Leyden, managing director at SunPower:
By hosting this system, Jersey Gardens will reliably maximize its savings on electricity costs over the next 20 years or more.
Besides more than 1100 people are employed in this ambitious project, with behind-the-meter renewable solar electric systems. As the Mayor J. Christian Bollwage puts it:
Through the creation of these green jobs and incorporation of environmentally proactive green technology, this project will benefit the City of Elizabeth and the entire region. "Go Green" efforts, increases overall operational efficiency and effectiveness, and saves valuable dollars for Jersey Gardens.
The Predecessors:
1. World's largest solar-powered office building in China:
The world's largest solar-powered building was constructed in Dezhou, Shangdong Province in northwest China, in 2009. This 75,000-square-meter office building is based on the sun dial structure, and additionally the external structure used only 1% steel for advanced roof and wall insulation systems.
2. World's Largest Pitched Thin-Film Solar Roof in Germany:
This giant roof crowning the Riedel Recycling facility in Moers, Germany comprises more than 11,000 thin-film solar modules with a total capacity of 837 kW. Covering 9,500 square meters, it took almost three months of construction work in 2008, for a height of 30 meters.
3. Huge Solar Roof at Akademie Mont-Ceni, Germany:
The Akademie Mont-Cenis in Germany has a glass roof canopy that actualize a "micro-climate" for the building's interior. Adding to that the roof also features integrated solar cells that produce about 700,000 kWh of energy per year. It is said to be the largest Photo-Voltaic installation on an individual roof. The building's innovative design makes sure that the cells not only generate electricity, but also act as an integrated shading system!
4. The Largest Solar Roof In The World – Floriade Hall:
The solar roof at the Floriade Exhibition Hall in the Netherlands still holds the record as the largest of its kind in the world. The roof is composed of 20,000 semi-transparent solar modules, and has a surface area of 28,000 square meters (almost 7 acres). It acts as a single giant solar panel – generating 2.3 megawatts of power. The solar cells also provide copious shade beneath the canopy, which houses a huge exhibit of variant plants.
The Successors:
1. New Bill That Would Generate 10 Million Solar Roofs Across US:
A bill passed in the U.S Congress in 2010 is slated to get 10 million solar roofs and 200,000 solar heaters functioning, and producing a total of 30,000 megawatts, over the next 10 years. The bill itself would create incentives and tax rebates for renewable solar energy -applications.
2. Ottawa City Hall solar panels to generate municipal revenues:
This unique plan contrives of generating enough green electricity for 300 homes and adding to that, up to $250,000 a year in revenue to the city. In the long term of 20 years, it is modestly estimated that Hydro Ottawa can pay as much as $5 million to the city with leased space of over 20 municipal roofs.
3. Housing development relies entirely on renewable energy:
C.F. Møller Architects in conjunction with Moe & Brødsgaard, Cenergia, Phillips, Schüco, Erik Juul and Vogt landscape have proposed a sustainable residential structure intended to be constructed on the Aalborg Waterfront in Denmark. It will be composed of 60 housing units, each of which will be powered entirely by renewable energy generated on-site. The entire surface of the roof of the structure has been transformed into a renewable energy power plant, composed of solar photovoltaic and solar thermal panels for production of electricity and hot water.
4. Nanjing South Railway Station solar roof project:
Based on government subsidiaries, Nanjing South Railway Station solar roof project has been unveiled on an slated investment of 270 million yuans. Estimations say even if 50% of the total initial investment are in equipment subsidies, the project needs 20 years to recover the initial investment cost. Still, it will follow in the footsteps of efficient solar roof constructions such as Wuhan Railway Station, Guangzhou Railway Station, Beijing South Railway Station, and even Lhasa Railway Station.