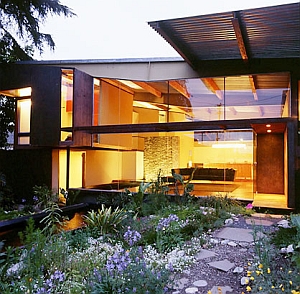 Look at the house in the picture. Doesn't it have a striking resemblance with your dream house? It definitely does to mine. It's absolutely stunning–the lighting, the flowers on the sidewalk, the little cobbled road leading to the house, it's straight out a very pretty picture. This 3,000 sf residence is situated in a 300 loft live-work artist community by the Brewery in downtown Los Angeles.
The large glass panels dominating over the entire house allow uninterrupted floods of light and overlooks the beautiful private garden oasis and artists' community. However, the Sea Train House by Jennifer Siegal's design firm Design Mobile isn't just another pretty house. What makes it even more beautiful than what it apparently is, is the fact that it is ecologically sustainable, having been made almost entirely out of storage containers and steel found on-site in downtown LA, combined with bits of steel and glass! The house witnesses some other ingenous ideas too. Grain trailers are transformed into Koi fishpond and lap pool!
The storage containers thrown away having been considered of no good use have been cleverly utilized to create and separate the dwelling spaces within the house. As aresult of this, the house has everything you can ask for–entertainment area, library, dining room, office space allowing a view of the garden, bathroom and laundry room. The most stunning feature of the house is the spacious master bedroom at the upper part of the house, offering unparalled aesthetic pleasures.
Recycled materials thus come together to be transformed as if by magic into this marvellous, ultra-modern piece of architecture, at the same time allowing Mother Nature to breathe free.
This sculptural wonder is not only practical, but conveniently cost-effective. Buyers can choose from 10 floor plans and two sizes, depending on their needs and budget; a 12-foot-by-40-foot unit costs $79,000, and a 12-foot-by-60-foot unit goes for $125,000.
Via: HauteNature