The town of Sassuolo in Italy is known for producing a large percentage of Italian ceramic tiles. With over 300 ceramic factories scattered in the region, it isn't uncommon to see citizens incorporating the material in the construction of homes and commercial establishments. In keeping with the town's reputation for being on the forefront of tile production, Enrico Iascone Architects has designed a house that uses tiles to coat the walls and the roof to keep it cool during hot summer climes.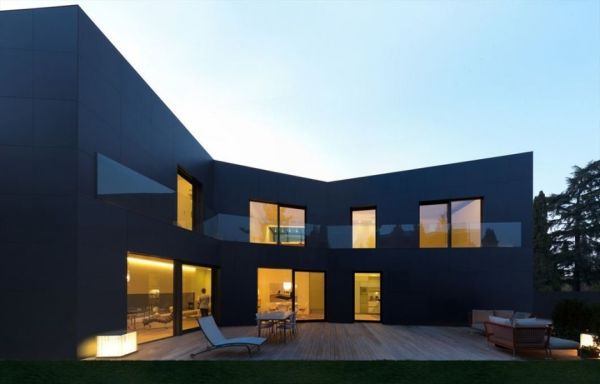 The house resembles a large box that's been cut in two which is what the architects were hoping to achieve. The design enables the building of two structures in a single volume and creates a separation that allows the two units to have their own garden and privacy. The patio serves as the focal point with rooms arranged around it to allow free flow of light and air inside.
The dark walls are elegant in their simplistic design and the patio's location means that occupants are removed from noise. The house uses no concrete and instead makes use of wood covered with thick Italian ceramic panels. The roof also uses slabs of ceramic and incorporates solar panels to generate clean electricity.
In contrast to the exterior, the interior is bathed in light-colored paint to give it the illusion of even more space. Matching furniture and floor coverings add to the elegance. A recessed floor area in the living room accommodates the sofas to create a cozy space, perfect for entertaining guests.
This isn't the first of Enrico Iascone Architects' eco friendly designs. In 2009, the firm conceptualized the Eco 2 House, a structure built using wooden frames and coated with an environmentally friendly covering. In 2010, the architects designed an office for Industrial Bio-on – a company engaged in the manufacture of plastic through reusing waste from agricultural production – using natural materials and technologies designed to minimize energy usage.
Via: Contemporist