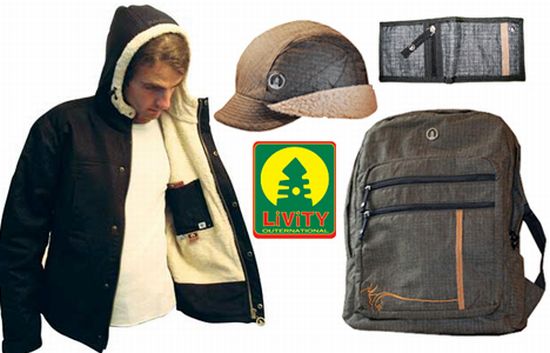 I remember a few months back Google launching a line of eco-fabrics that are made out of wood and Bamboo. It seems everyone is interested in taking a piece of the co-pie and textile industry is no different either. While each firm does this both to enhance its own image and keep itself in news, the end result is that it does immense good to the planet. Irrespective of the primary motive, environmental awareness and protection has become an important issue. That is truly welcome.

Now we have another eco-fabric that is made out of recycled stuff and combines natural fiber with synthetic fiber. Dubbed one of the most low-impact yet high-function outerwear material ever created, Livity's Rip-Tide III fabric is a hemp/recycled-PET blend that combines durability with lightweight portability. The British Columbia-based eco-apparel brand has applied Rip-Tide III to a range of products, including hats, jackets, bags, and accessories. You can see what they offer and the variety in design in the picture. I suppose that is just a sample, but if you happen to like it, then maybe you can take a look inside.
Featuring a ripstop box weave construction that resists tearing, the shell fabric is finished with a waterproof lamination that is low-impact and biodegradable. The clothing will not be harmful to the planet when you dispose it and are totally biodegradable. This makes the fabric all the more welcome. While some people are voicing their concerns about PET fabric, most of them seem not too rational. So if you wish to clad yourself in clothes that are as eco-friendly as your organic body is, Rip-Tide might be a pretty good option.