Research and Development Complex in Hangzhou promotes new techniques and technologies
Achieving energy efficiency over the entire plan of a building is one of the most important goals of sustainable architecture. It seeks to reduce the negative impact of buildings on the environment. KABC has recently developed an innovative office and lab complex in Hangzhou, with sustainability at the core of its architectural expression. It promotes new techniques and technologies and lays a new prototype for the research and office campuses in the area.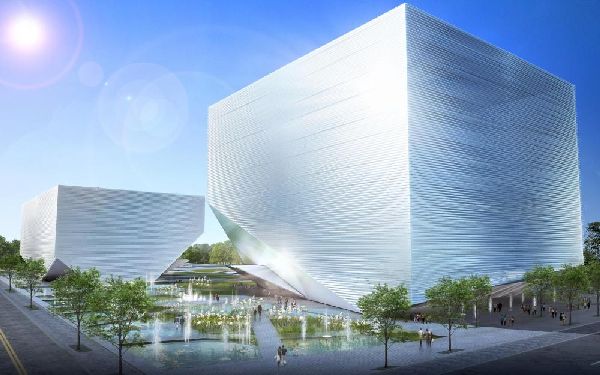 This masterpiece of modern architecture, got insight from the enthralling shapes of Chinese rocks and also from the prospective which the site beholds. These two buildings look more like two works of art. The two architectural cubes, seem to be enjoying their liberty of isolation, as the two, stand apart and retort to a wide green corridor, which can be seen from the courtyard between the buildings. The facades are cut from both the forms to go to the corridor. The buildings' glass portico reveals both daylight and the surroundings; they also include a sun screen that helps the buildings to become accustomed to the changing light conditions.
Entrenched in between crossing pedestrians, employees, and inventive ideas, the buildings have become the zenith of lively technology. The exterior of the buildings is made of aluminum strips that are disposed at certain places to admit broad daylight. The position, the shape, and the excellent management of each strip, facilitates the system to have fun with light, and make this project another important development for the campus energy. The water features and the beautiful scenery act as a place of public recreation during the day.
This building is an extraordinary blend of aesthetics and function. It immediately catches the attention of all with its iconic presence. A glance on the site gives an impression of apparent, geometrical, forms floating above the landscape as they are place above the landscape and are in complete harmony with the adjacent buildings.
Via: Aeccafe