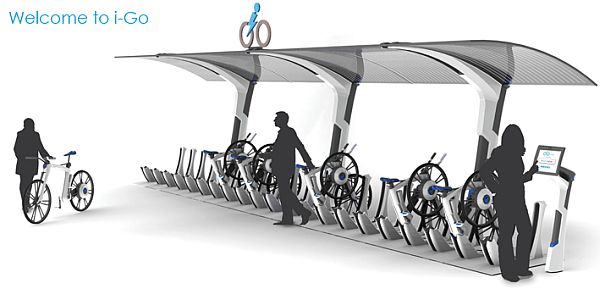 Go green. Everybody says that, believes that. But what do we do about it? At the most, we switch off the appliances when not in use and avoid a printout when we can manage with an e-mail. Is that enough? Here is a system which is something to pay attention to. A Rentable City E-biking System. If you hail from a metro with the pace of life defeating the pace of thought, you probably know what are traffic jams and therefore, what is frustration. The idea is about extracting benefits out of every aspect of the service. An eco-friendly, convenient business model, very rare of its kind.
The plot is about a service that rents E-bikes for transportation in urban environments. And in its real sense, its multi-purpose. To start with, the bikes are high-tech. And the point in accentuating this fact is that they wont make you feel anything less in the competitive lifestyle. The features include an App interface integrated with the handle, regenerative wireless brakes, battery, internal gears, electric motor, and many more. But the highlight here is the generation of energy with the usage of the bike which can be used to power electric motors and smartphones.
The handle has a smartphone app with recharging facility along with GPS, Community access and personal trainer systems at your finger-tips. The bikes are foldable, easy to store and portable. The target customers are those beings in the cities who want to make a difference with style. Your environmental conscience can also help you lead a healthy and active lifestyle through commuting to work daily on E-bikes avoiding the city congestion and pollution. The bike can be rented at outlets where an automated system can provide you membership or free bike rides. You just need to follow the easy steps and ride away with the E-bike.
The basic feature in the bikes is that pedaling produces and stores energy. Furthermore, even braking stores energy. While climbing steep roads, an electric assist can be used to make life easier. Discounts are provided on the rent when you return the E-bike based on the energy produced by the rider which is tracked in the Smartphone App on the handle.
The stylish and durable looks combined with high-end technology makes these E-bikes a spectacular approach to look out for solving multipurpose agendas. The business idea is based on the motto – profit for everyone. So try your hands at one of these modern day tech innovations and help your environment while helping yourself. It cant get any better.
Via: Macs-Design