Renewable power generating building to go for rent in Brooklyn, New York
Eco architecture may finally come out of those grandiose conceptions and avant garde renderings to make its presence felt in the real market. At least, that is the ambitious plan concerning a full fledged rental building in the neighborhood of Park Slope, in western Brooklyn, which is incidentally New York's most populous borough. Envisaged as a mixed used space, this contemporary structure will be totally self reliant in its indigenous power generation.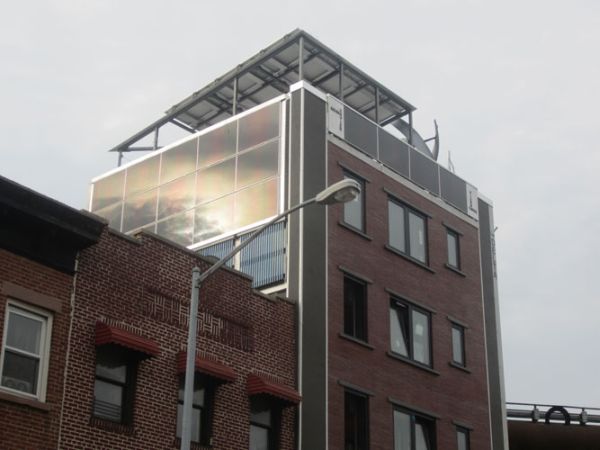 Aesthetically, the lustrous building insinuates a fusion of modernistic glass panels with New York's traditional brick laden facades. In fact, the volumetric amalgamation of the flexible structure in the neighborhood is harmoniously apt, with locals actually looking forward to this integration of 'old and new'.
On the inside, the expansive rental area will be defined into a multitude of functional circulation spaces like offices, bar, lounge and a restaurant. However, beyond just visual or spatial allure, it is the ardent 'green' credentials of the conception that really tickles our fancy.
In relation to this, the aforementioned glass squares would be complimented by rooftop solar panels and a conspicuous wind turbine. According to the designers, this means all the heat and electricity will be generated by the building itself. Finally, as for the cost factor of renting the green building with six inclusive spaces, estimates vary from $1,600/month to $2,600/month.
Via: Curbed