Reißeck's new terminal and restaurant to be designed by Zechner & Zechner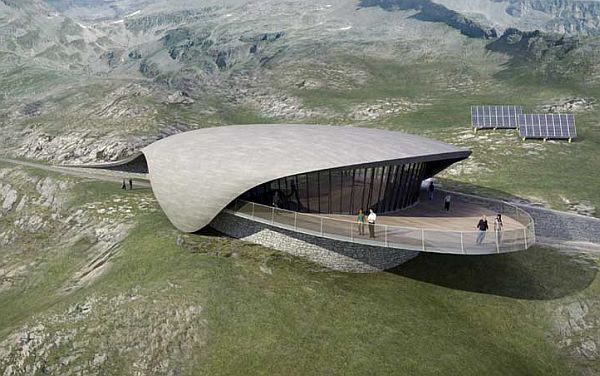 Zechner & Zechner, an Austria-based design company has won the Reißeck Top Terminal design Competition.
The project involves the construction of a restaurant that is situated on a mountain top, 2250 meters above the sea level. This project is being undertaken by Austria's leading electricity company and one of the largest producers of electricity from hydropower in Europe VERBUND.

Also included in this construction project is a top railway terminal for Reißeck, which will also feature information and display spaces.
Proving their mettle in an international design competition are Vienna-based architects Zechner & Zechner, who will be designing this sky high project.
The design appears to be an emerging snake's hood from under the earth. The new terminal building will be situated on top, whereas the lower portion of the station outlines the landscape as it moves down.
The building has been embedded by eco-friendly features allowing it to be a self-producer of energy. The new build structure has been designed to be powered by means of solar thermal collectors. These solar energy devices are the primary source of energy for the building, providing power for heating and hot water solutions.
As the building is situated at such a great height it requires a high amount of prefabrication works. A balance in constructing this structure can be achieved with the use of the right kind of wood as construction material.
A series of different rooms greet the guests as they reach the mountain. The ground floor ends in the slope and is thus shut from the outside. On contrast is the restaurant, which features an absolute open design, allowing panoramic views of the mountain, its plantation and the greenery. The restaurant is situated at the mouth of the large snake like building. This allows it to receive the best of the open space. A large open space like that of the deck of a ship lies right before the building offering the best of tranquility of the mountain. Large reflective glass have been placed on the facade of the building that do not compromise on offering the best views. The whole building is surrounded by mountain slopes, vegetation and the sight of the horizon and the sky.
Via: e-architect