Recycling castoff wood into flooring, moldings and countertops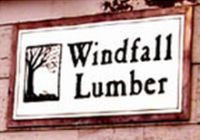 Don't dispose those castoff wood just to let them head for the landfill. Rather, send them to the owner of Windfall Lumber, Scott Royer, who has carved out a boutique niche in Washington's wood-products industry.
Sure to gain praises and admirations from any environment lover or activist, Royer recycles castoff wood into flooring, moldings and countertops rather than letting these carted off to the dump.
Capitalizing on this environmental niche, Windfall Lumber is one of the very few companies that mill and sell salvaged wood. Among his raw materials piled in the yard behind Windfall Lumber's plant next to the Port of Olympia are –
* A pile of redwood staves from 75-year-old wine tanks salvaged from California vineyards.
* Well-preserved Douglas fir and cedar logs from Lake Cushman in Mason County, which have been underwater for 75 years since the lake was created by Cushman Dam!
* The heavy Douglas fir timbers piled in one corner used to hold up a Tacoma-area bridge.
* Douglas fir trusses from recently demolished 1940s-era Fort Lewis barracks, displaying the tight-grained characteristics of old-growth trees.
Royer said,
I knew at the end of the day, I'd have to give something back. The environment isn't free in my mind. There's a cost, and I want to make sure we don't take it for granted.
And it is his, this thought that brought out the recycler in him!