Best recycled glass countertops for eco friendly kitchens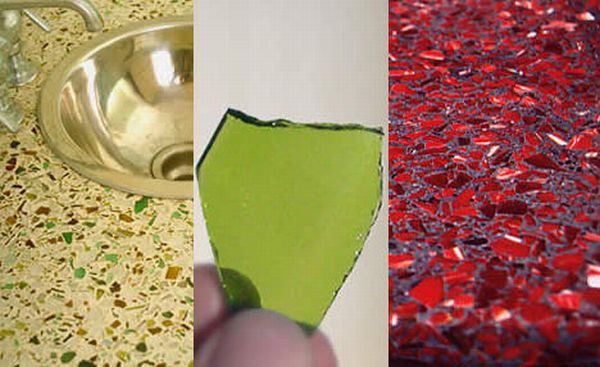 Recycling is being embraced like never before in this modern era. The ever increasing waste piles are a threat to the environment and designers are coming up with smart ideas to give a new lease of life to thrown away materials. A lot of glass, in the form of bottles, is dumped each year. How about turning this thrash glass into more useful products like a kitchen countertop? These recycled glass countertops are a perfect replacement for granite and natural stone. These come smothered with eco friendliness and will create a stunning focal point your kitchen.
Vetrazzo Countertops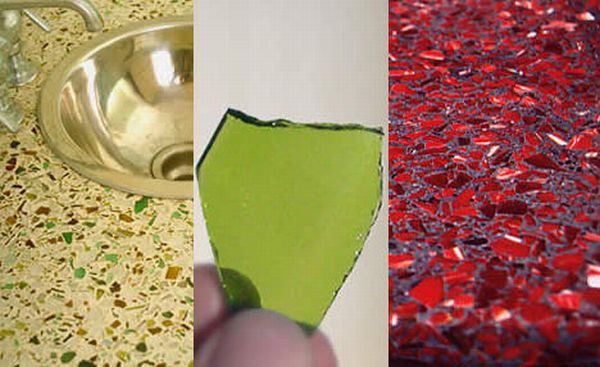 Vetrazzo Countertops is a product by Vetrazzo, LLC from Richmond, California. These countertops come caked in eco friendliness and have been crafted using salvaged glass, which is taken from various post industrial and post consumer sources. No polymers or resins were used during the production process to manufacture these kitchen countertops. The slabs have a full size with a thickness of 1 ¼ inches.
Icestone recycled glass countertops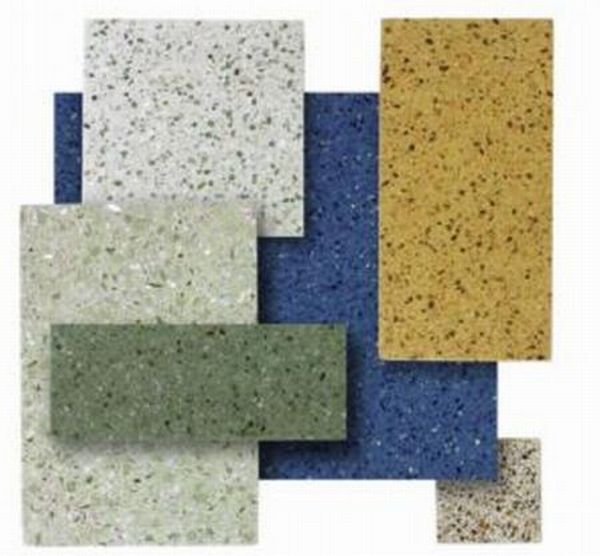 If you have been blessed with an eco friendly soul, then the Icestone recycled glass counterpart is a must for your kitchen. The VOC free and durable countertop has managed to get the McDonough Braungart Design Chemistry's Cradle to Cradle certification. Glass collected from waste streams has been reused in a fashionable way. The heat resistant countertops are available in a variety of colors and are as strong as granite.
Gilasi recycled glass countertops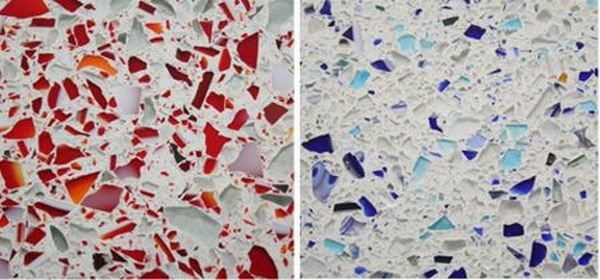 To give kitchen countertops a touch of clean and green traits,here is Gilasi. They have come up with attention grabbing countertops, which have been made from locally recycled glass and other sustainable materials that don't have any VOCs. The texture is distinct and looks appealing.
EnviroGLAS recycled glass countertops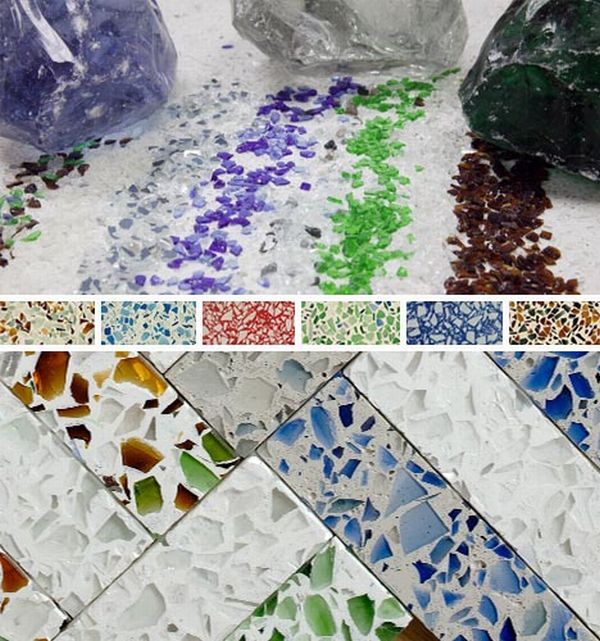 EnviroGLAS recycled glass countertops will enliven your kitchen with their colorful nature. These are aesthetically pleasing and indeed strong. The countertops have been made by mixing colored glass with cement, resin base or concrete. The glass used in this case comes from waste sources. At times, fly ash is mixed with cement, which is a waste product produced when coal is burnt. All this makes the design environmentally friendly and in turn brings down the manufacturing cost and lowers the greenhouse gas production.
Trinity recycled glass countertops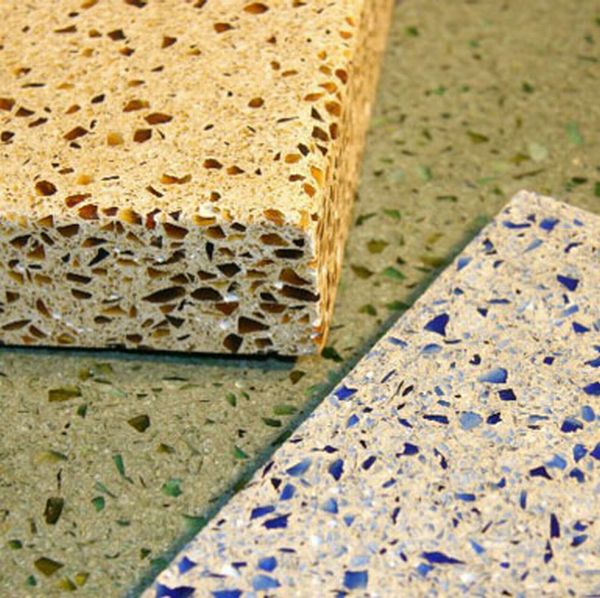 Trinity recycled glass countertops have been produced by Tiger Mountain Innovations in Seattle, Washington. The earth friendly product comes wrapped in versatility and is handcrafted. It is easy to maintain and has been made from 75 percent salvaged glass mixed with low carbon cement. It is scratch resistant and also heat resistant. Trinity has a natural stone facade and is available in six shades.
WF Decor recycled glass countertops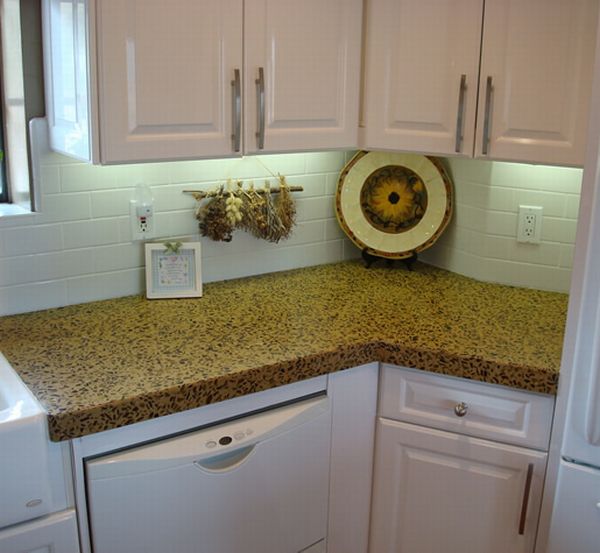 WF Decor recycled glass countertops are not gaudy or overstated and will be perfect for both traditional as well as contemporary interiors. They have been crafted from 100 percent recycled glass and don't require extensive maintenance. The best part is that these countertops won't have any negative impact over the environment, which is worth applauding.
Glass Recycled: recycled glass countertops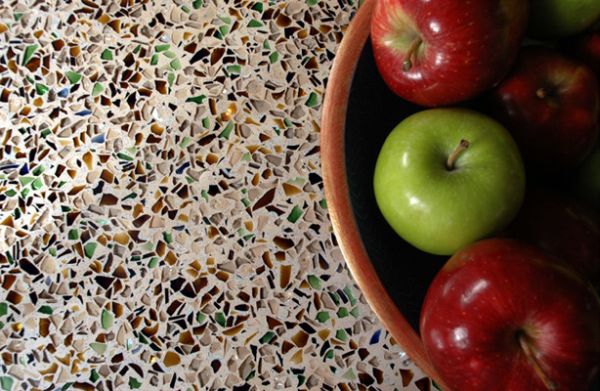 Glass Recycled, a company owned by Tim Whaley, upcycles glass and uses it to make beautiful glass tops, which otherwise would have piled up in dump yards. The recycled glass countertops are brought to life by mixing crushed glass with epoxy resin. This gives birth to awe amazing terrazzo designs, which makes the countertops look all the more sumptuous.
Urban Slabs recycled glass countertops

Urban Slabs recycled glass countertops are an innovative and eco friendly solution for your kitchen interiors. The sustainable countertops comprise of 100 percent recycled glass, which is mixed with cement matrix. These are light weight and have a thickness of 3/4 inches, which is a result of cement mixers that has no resinous binders. These are easy to transport and will prove to be a great alternative.
Resilica – recycled glass countertops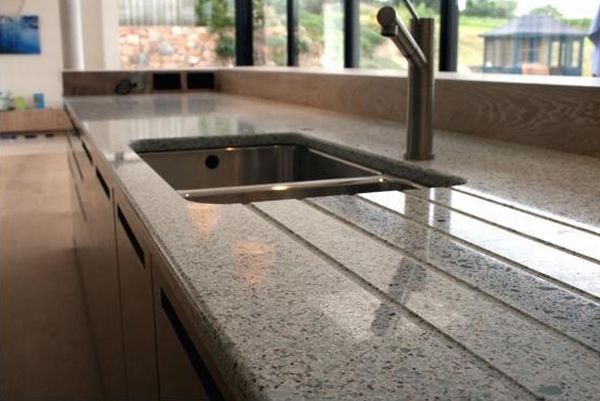 Resilica recycled glass countertops are made from 100 percent salvaged glass waste and can be customized as per a buyer's whims and fancies. These can be made in just any color combination, which gives it an altogether different sparkle. The glass used is mixed with a solvent free resin system, which is further polished for a smooth and clean look. These eco friendly worktops will help maintain proper hygiene and since they are hard wearing they will last long.
JW Smith Masonry Contertop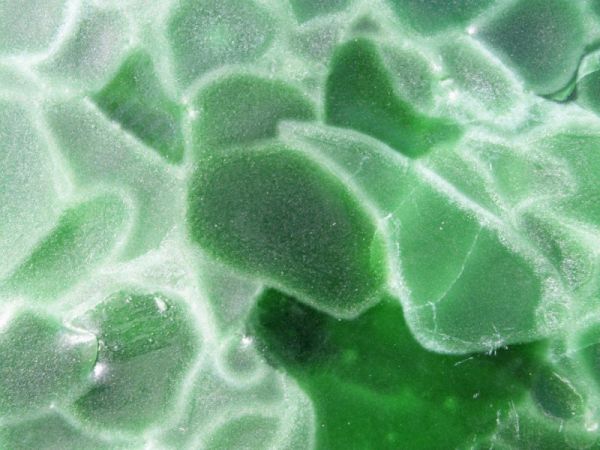 JW Smith Masonry countertops are downright good looking and will prove to be an ideal surface for your kitchen. The glass used in this case comes from commercial and household waste. The size and thickness can be modified as per a user's exact design specifications. JW Smith Masonry countertops are a fine example, in which waste has been and re utilized to make new designs.