The trend these days seems to be to move away from the hustle and rush of the big cities and to build a beautiful home that is surrounded by nature and is endowed with a multitude of green features. While the studio apartment lifestyle is great while you are working full time trying to make a career for yourself and rush to work each morning, a semi-retired lifestyle or even one that does not require you to stay in the big cities means that you can once again get back in touch with nature. Peachester is a small little town in Australia that is filled with some lush green woods and the Storrs Road Residence is nestled beautifully among this flora.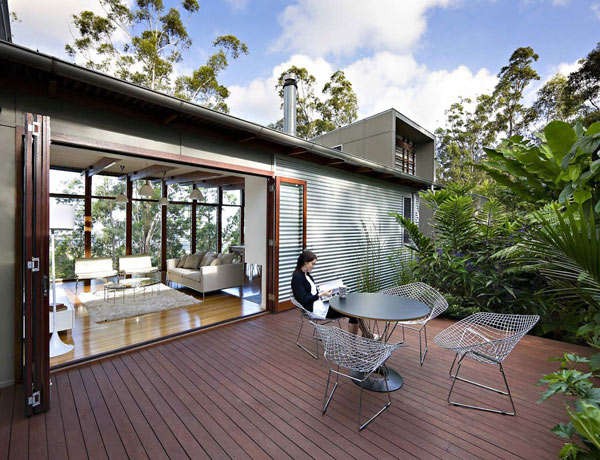 The house seems to be built near the site of a small dam in the past and a small pond still is present in the 18 hectare property that sports this cool little home. The single story building consists of many green features apart from the surroundings that are filled with natural goodness. Solar water heating solutions, low energy light installations combined with ample natural ventilation that reduces reliance on artificial lighting and immense ability to store water and even manage rainwater, make this home highly energy efficient.
The home was revamped into its present form by Tim Stewart Architects and they have tried to integrate the garden as an important part of the home's interiors as well and this truly is a wonderful example of how one can design a green home that becomes an extension of the natural surroundings around it and does so without spending too much on fancy technology. Reclaimed wood has been used to design most of the home's exterior and basic structure as well, making it all the more eco-conscious.
Via: Freshome