Quadrofoil: A green sportscar for wave lovers
The Quadrofoil is a chief example in the field of field of motorized recreational toys. A team of three young Slovenian designers showcased their skills with a limited production of 100 units scheduled to hit the market by this year end. The company is now targeting to raise funds to manufacture more than 10000 units in a year from next year onwards. This sports car will be avalaible at the price of EUR15,000 (US$19,100) with a booking amount under the waiting list for a deposit of EUR5000 (US$6,370).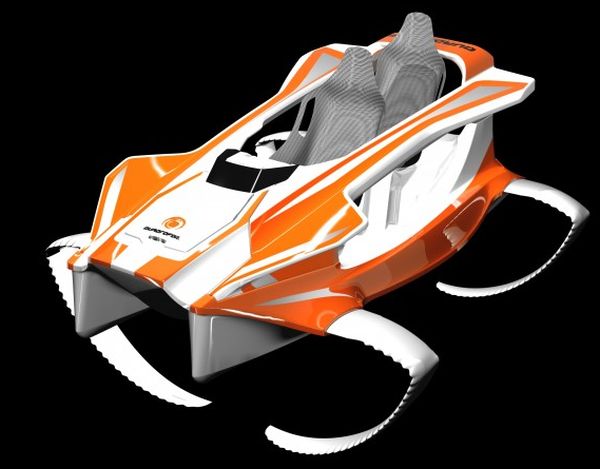 This electric hydrofoil can accommodate two passengers in a go and runs silently at a speed of 40 km/h which means 25 mph/22 knot. This sports vehicle for water is based on a fast turning dynamics and with its limited emissions; it adds a positive influence on the aquatic Eco life. Its green attribute is also appreciated by eco lovers due to its quality of not displacing substantial amount of water. With a top speed of 25 mph and with a single electric motor of 3.7 kw it is very efficient. It's light weight carbon fiber and integrated lithium batteries offer a range of 62 miles (100 km). This is a great ecologically sound water sports car as it can be recharged from a domestic power point and through solar panels which are flexible and can be creased inside the watercraft as an emergency power supply outlet.
The shape of the hydrofoils has been created with help of biomimicry by the Slovenian team. This ecofriendly machine provides great comfort to its passengers as the flight of this sports car is disturbed only by the waves that are greater than 50 cms (20 inches). This Quadrofoil is a great chance to succeed in the commercial markets.
Via: Gizmag