QB1: Energy-positive house promises carbon neutrality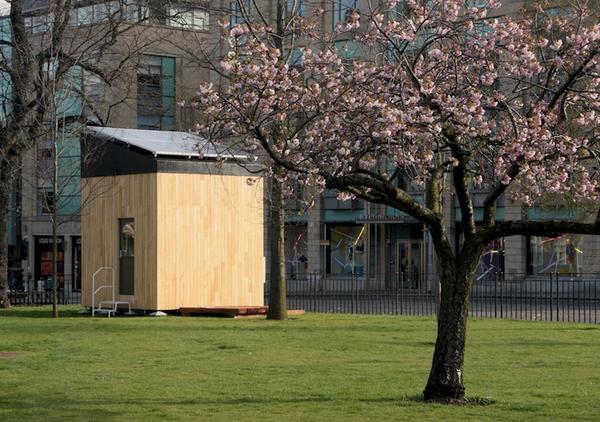 How amazing would it be if we eat food to lose weight! Sounds impossible, right? That may be not possible, but a Cube Project called QB1 designed and developed by Dr. Mike Page for the University of Hertfordshire does something similar with energy. QB1 produces more energy than it consumes over a year and that surplus energy is sold to the power department. This cube was recently unveiled in St. Andrew's Square in Edinburgh in Scotland.
The cube measures 3 meters on each side and is tiny at less than 100 sq ft. It, however, has all the amenities – a lounge, table, two chairs, a double bed, a full-size shower, a kitchen, a washing machine, and a composting toilet. A rooftop solar system allows the owner to earn about $1600 cash upon registration.
QB1 boasts of many eco-friendly aspects with LED lighting, Ecodan air-source heat pump, heat recovery ventilator, and cork flooring among other things. This home has a Kingspan timber frame, and triple glazed windows. All you need to move in this house is a grid connection, and cold water. There is an in-built system to process liquid waste, and solid waste for composting. Dr. Mike Page has certainly come up with a very interesting design. Hope it catches on in the budget housing segment.
Via: Jetson Green