Pretty micro planters made out of cork from wine bottles
Published on May 14th, 2012
Garden planters aren't just containers for planting flowers and plants. They're decorative too and can be used to deck up a boring space. Planters also don't have to be purchased from stores and can be made by oneself. While most are as large as or larger than flower pots, some are classified into the micro category. These are tiny little holders used to contain succulent plants. They can be used to decorate walls, tables or exteriors and make for perfect gifting items.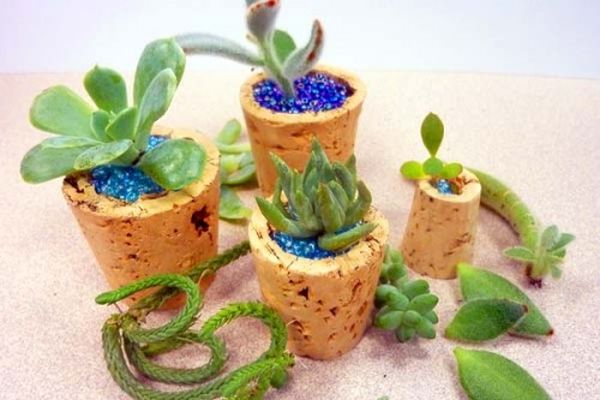 Micro planters can be made out of virtually any material though cork is the preferred choice. You can use those that come with wine or champagne bottles. Cork planters make for a fun DIY project and don't really require you to purchase additional base materials. You'll need a carving tool or a small knife to carve out the cork/s, a small succulent plant or a cutting, some potting mix and accessories like beads if you want to dress up your micro planter.
Carve out the cork using the knife or carving tool. Make sure that you don't carve too close to the edges else the cork may break. Take a bit of potting mix and put it into the carved cork. Place your plant and fill the cork with more soil. You can leave the planter as it is or add a few beads and sequins to dress it up. To ensure that your succulents thrive, spritz a few drop of water when needed but make sure you don't overwater them.
While we've heard of cork being used in flooring, packaging and shoes, this micro planter idea is the most interesting. You don't need to buy the materials but can collect the corks from friends and family if you run out. Make several of them and gift them to colleagues or friends.
Via: Greenupgrader
Leave a Reply