Powertrekk portable charger provides green juice to your gadget gear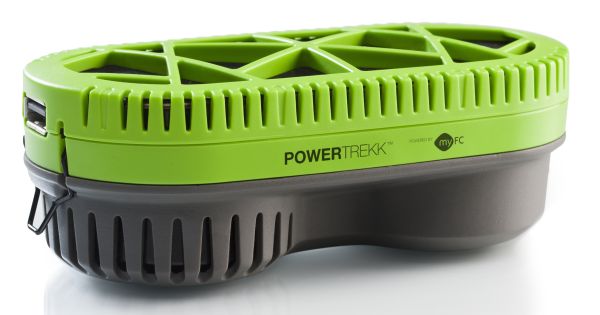 In this technology-driven age, many people are depending on electronic gadgets for working or even spending time. And for charging their electronic equipments they keep looking for a power supply which is a common problem for tech users nowadays. To catch the needs of people who travel for work or spend time even in regions which are away from electric grid, MyFC, a fuel cell innovator based in Stockholm, Sweden has come out with a portable fuel cell charger – PowerTrekk which can help resolve charging problems in gadgets.
Based on technology similar to that used in hydrogen-powered fuel cell cars, the device uses water to create hydrogen, which is then converted into electricity. The Powertrekk doubles as a portable battery pack and fuel cell. The portable battery pack can be operated on its own as a ready source of power or storage buffer for the fuel cell. The PowerTrekk is a pocket size, lightweight charger capable of providing instant power anywhere, with the help of the PEM 4-cell unit 1000 mAh fuel cell, housed within a rugged, waterproof casing.
How green is it?
The portable battery pack can be operated on its own as a ready source of power or storage buffer for the fuel cell. The advanced fuel cell technology is employed, that efficiently converts hydrogen to electricity. A fuel cell is a type of electrochemical cell that converts chemical energy of a fuel (hydrogen, methanol, natural gas, gasoline) and an oxidant (air or oxygen) into electrical energy. To keep the fuel cell working the user only needs a new fuel pack and water. Because the source providing the hydrogen fuel can be any substitute, the system is therefore "flexifuel". And since the bi product of the chemical reaction is water vapour therefore its safe and also ecofriendly.
Alternatives
Toshiba's Dynario fuel-cell charger: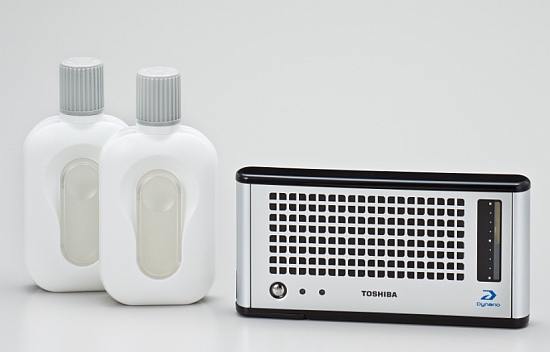 Toshiba have launched a limited run of 3000 units of their Methanol Fuel Cell Charger called the Dynario. The charger uses mixture of methanol and atmospheric oxygen, where thechemical reaction between the two in the fuel cell produces electricity. a single 14ml refill of methanol can charge gadgets within just 20 seconds. A single shot of methanol is able to completely charge two mobile phones. The product is available in market for $328.
Mobion fuel cell charger: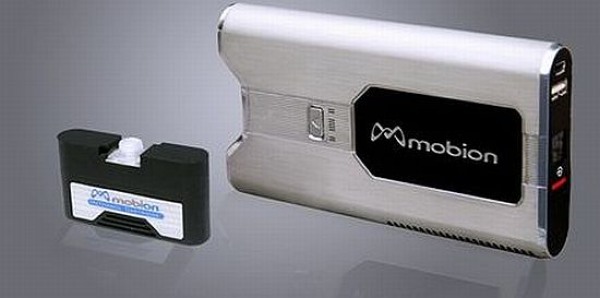 MTI MicroFuel Cells, the company behind the production of the Mobion fuel Cell Charger, claims that this charger is able to offer the average cell phone ten times the charge based on a single full charge. It can provide upto 25 watt-hours of power. The Mobion is powered by a 100% methanol fuel-based chip to make this scenario possible, and it fits comfortably into your palm, making this an extremely portable device to carry with on your travels. The fuel cell charger is the first one to bring you swappable cartridge capability.
24-7 Power Pack: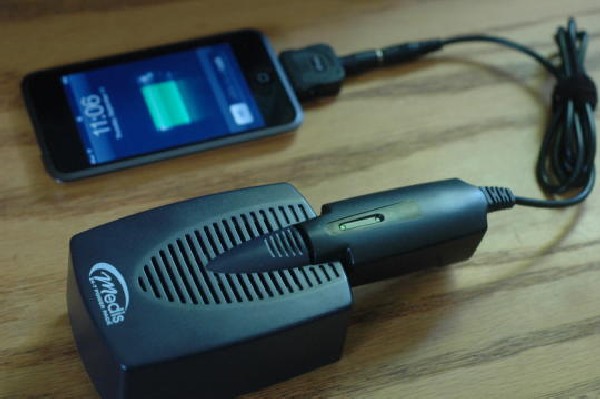 The Medis 24/7 fuel cell Power Pack is a great back-up gadget electricity supply for emergencies and camping trips. The 24-7 Power Pack provides sufficient energy to provide up to 30 hours of talk time to an average mobile phone or 60-80 hours of play time for an average iPod. The Medis 24/7 Power Pack is among the first consumer devices that uses a fuel cell to charge portable gadgets. It is priced at $25.
MiniPAK: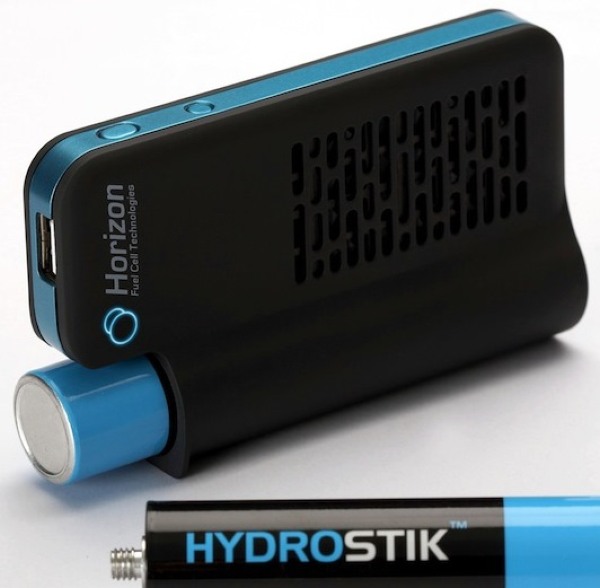 The MiniPAK portable electronic device charger is a palm-size universal portable power charger and power extender for ANY electronic device requiring up to 2W of power. The MiniPAK device integrates a passive air-breathing fuel cell and a "solid-state" hydrogen storage unit. The MiniPak DC power output is 2W (5V, 400mA), delivered through standard micro-USB port and a multi-choice cable. The device is supplied with 2 refillable and ready to use solid state hydrogen cartridge called HydroStiks. Each HydroStik has a life expectancy equal to about 1,000 AA-batteries. It costs for $99 and an additional HydroStik cost less than $10.
Intel, Lilliputian's Handheld Fuel Cell Charger: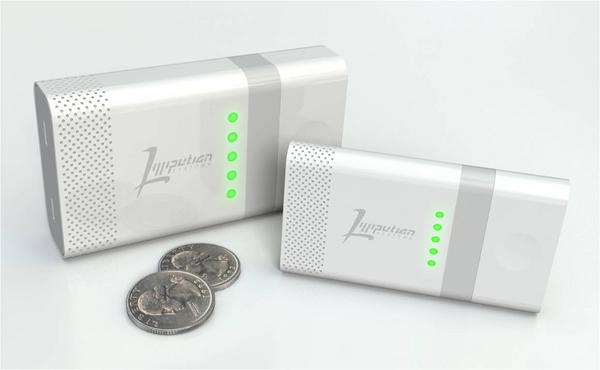 Intel Capital has invested an undisclosed amount in Wilmington, Massachusetts-based Lilliputian and will produce silicon wafers for its first planned fuel cell charger, of the size of a deck of cards. The device known as the USB Mobile Power System will hit market shelves soon. The butane is fed into the solid-oxide fuel cell which makes enough power–in the range of 3 watts–to charge small gadgets, such as iPods and smartphones. The expected cost is about US$99 and individual cartridges, which will be recyclable, will cost a few dollars. When used in a conservative way the battery can last for a month.